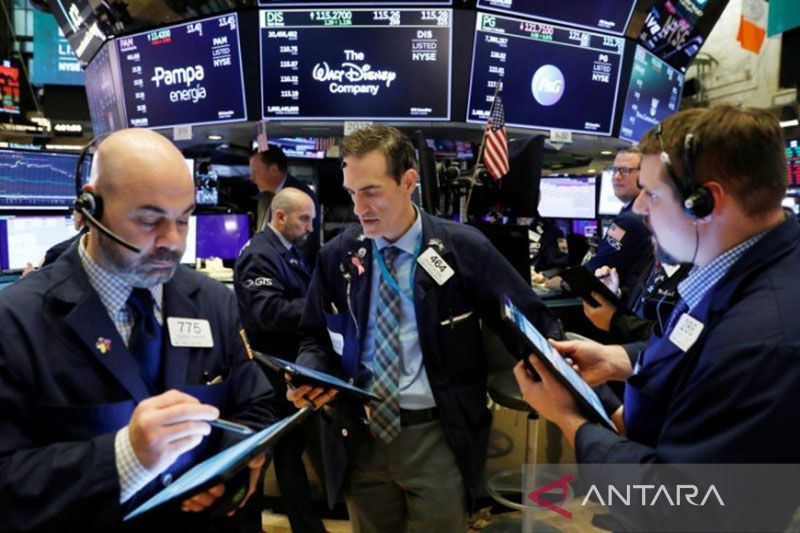 New York (Rifyu.com) – Stocks on Wall Street fell in late trading Friday (Saturday morning WIB), as early gains dissipated after US debt ceiling negotiations in Washington stalled, undermining optimism that a deal could be reached in the coming days to avoid default .
The Dow Jones Industrial Average slumped 109.28 points, or 0.33 percent, to settle at 33,426.63 points. The S&P 500 index shed 6.07 points, or 0.14 percent, to end at 4,191.98 points. The Nasdaq Composite Index slipped 30.94 points, or 0.24 percent, to close at 12,657.90 points.
Seven of the 11 primary S&P 500 sectors ended in the red, with consumer non-primary and communications services leading the decliners, losing 0.84 percent and 0.49 percent, respectively. Meanwhile, the energy and health sectors led the gains by rising 0.73 percent and 0.46 percent respectively.
The Republican congressional representative's departure from the negotiating table Friday (19/5/2023) morning cast doubt over progress on debt ceiling talks to avert a catastrophic US default.
The White House side is "not making any sense," said Republican Representative Garret Graves, a key ally of House Speaker Kevin McCarthy, adding that negotiations were on a "pause." His comments came a day after McCarthy's upbeat words about next week's earliest House vote.
Also read: Wall St extends gains amid optimism about debt ceiling talks
There is a lot of uncertainty about what will happen with respect to debt ceiling talks, and the stock market could plummet if a deal is not reached by the deadline, according to Peter Cohan, professor of practice management at Babson College, a private business school in Massachusetts.
Cohan told Xinhua on Friday (19/5/2023), that what happened during the debt ceiling talks in 2011 could be repeated and could get worse even though what happened in 2011 was basically a short-term thing.
Statistics show that the S&P 500 Index plunged nearly 17 percent between July 22 and August 8 during the debt ceiling impasse in 2011.
Because Democrats won't support deficit reductions to pay for tax cuts that push back deficits and Republicans won't approve anything limiting tax cuts, there's really no basis for a deal, said David A. Super, a professor of law and economics at Georgetown University Law Center.
Also read: Asian stocks rally following Wall Street amid optimism for US debt ceiling
It is quite possible to have a short-term extension of the debt limit by about two months and "negotiations will continue for most of the summer," Super told Xinhua.
The market could be very unsettled in the short term and the situation in the market could be even worse than during the debt ceiling talks in 2011, according to Super.
Stocks fell amid a slump in shares of regional banks and related exchange-traded funds after Treasury Secretary Janet Yellen reportedly told CEOs of major banks that more mergers may be needed. Yellen raised the prospect that more regional banks may have to be bought out by big lenders.
However, Friday's losses eased after Federal Reserve Chair Jerome Powell indicated he was open to a pause in rate hikes at the central bank's monetary policy meeting in June.
Powell also said that banking pressures could influence the Fed's view on rate hikes, with credit tightening likely to slow economic growth and hiring.
Powell has paved the way for the Fed to drop its rate hike campaign at its June meeting, said Edward Moya, senior market analyst at OANDA, a supplier of online multi-asset trading services.
"The Fed may however continue tightening as Powell reiterated that inflation is well above the Fed's target. The Fed will not have all the answers on whether inflation will continue to fall until it reaches target for a few more months," said Moya. .
The Federal Open Market Committee has about an 82 percent chance of stopping a rate hike at its upcoming monetary policy meeting in June, according to data from the CME FedWatch Tool Friday afternoon (19/5/2023).
Translator: Apep Suhendar
Editor: Adi Blueardi
COPYRIGHT © BETWEEN 2023
source: www.antaranews.com