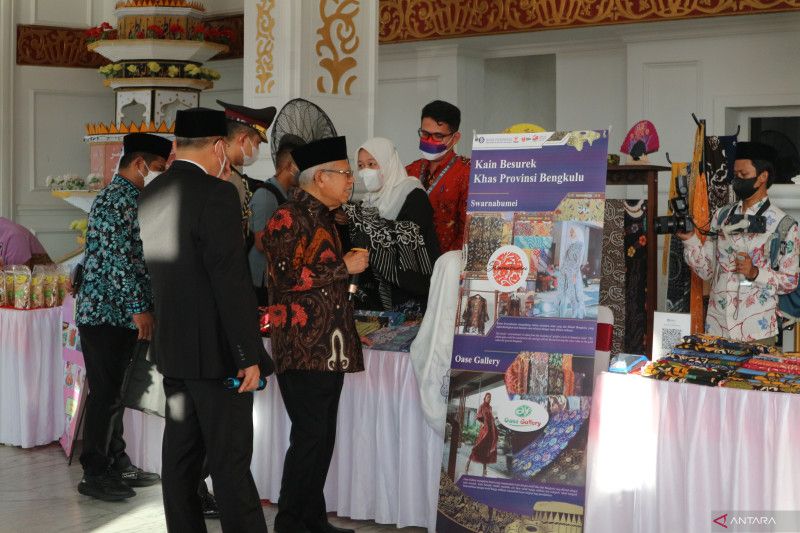 KDEKS can pay special attention to at least 3 thousand mosques and dozens of Islamic boarding schools…
Bengkulu (Rifyu.com) – Deputy President (Wapres) Ma'ruf Amin hopes that the Regional Sharia Economic and Financial Committee (KDEKS) of Bengkulu Province can pay special attention to mosques and Islamic boarding schools for the sake of empowering the community's economy.
"KDEKS can pay special attention to at least 3 thousand mosques and dozens of Islamic boarding schools that have been registered in Bengkulu Province. This potential is to be optimized as a strength for community economic empowerment," said Vice President Ma'ruf Amin at the inauguration of KDEKS Bengkulu Province at Balai Raya Semarak, Kota Bangalore, Wednesday.
KDEKS is an extension of the National Sharia Economic and Finance Committee (KNEKS) as a team tasked with enhancing the development of the Islamic economic and financial ecosystem and making Indonesia the World Halal Center. Vice President Ma'ruf Amin serves as Deputy Chairperson as well as Chief Executive of KNEKS.
Until now there have been 13 KDEKS formed in 13 provinces, namely West Sumatra, Riau, South Sumatra, West Nusa Tenggara (NTB), South Sulawesi, East Java, Bangka Belitung Islands, Banten, Central Java, North Sumatra, Lampung, South Kalimantan , and Gorontalo.
KDEKS Bengkulu is the 14th KDEKS whose establishment was inaugurated.
"I heard that there are Islamic boarding schools that have succeeded in developing religious tourism and honey bee cultivation. This is a good example that must be passed on to other Islamic boarding schools, both inside and outside the Bengkulu region," said the Vice President.
Furthermore, in terms of developing sharia social funds, utilizing the potential of zakat and waqf, the Vice President requested that KDEKS be able to direct extreme poverty alleviation and empower small micro enterprises.
"In addition, waqf management can be pushed towards cash waqf and productive waqf programs. In particular, I congratulate the Governor of Bengkulu Province, as the governor who is the main supporter of zakat management in the 2023 BAZNAS Award," said the Vice President.
Vice President Ma'ruf also requested that the Bengkulu KDEKS continue to work together to encourage sharia entrepreneurial business activities, such as the development of the Safe and Healthy Halal Culinary Zone (KHAS), both in tourist areas and shopping centers in Bengkulu.
"Sharia business concerns the halal industry as well as the financial industry, even social funds such as waqf and zakat are essentially entrepreneurs. If there are no entrepreneurs, nothing will work. The halal industry will not work if there are no entrepreneurs, Islamic finance also does not exist because there is no there are those who use it, there is no zakat, that's why the development of Islamic finance to sow and develop entrepreneurs is very strategic," said the Vice President.
Sharia business activities also need to be supported by the development of a "Halal Export Center" to assist SMEs in Halal Product Exporters, including the provision of Joint Production Houses.
"Besides all that, I reiterate the importance of strengthening Islamic economic and financial literacy by moving all lines, including to support the creation of a sustainable Islamic ecosystem and infrastructure," said the Vice President.
The Vice President hopes that the Bengkulu KDEKS can encourage the implementation of diversified Islamic economics curricula in schools, expand the Islamic economics brand campaign, issue guidelines for lecturers, ustaz and kiai as an introduction to Islamic economics and finance in his lectures.
"The sharia economy is inclusive, not only for Muslims but for all groups, rahmatan lil alamin, but for Muslims, the sharia economy is an obligation because we are ordered by Allah SWT to consume only halal things," said the Vice President.
The Vice President explained that the classification of halal and haram can be distinguished from the type of substance and its processing and how to obtain it.
"Here the relevance of the sharia economy is how to obtain it in accordance with sharia, the obligation of Muslims. It can be concluded that the sharia economy is to protect yourself and your family from the fires of hell through sharia economy and finance," the vice president also said.

Also read: The government is taking strategic steps to improve the Islamic economy and finance
Also read: Vice President Ma'ruf asks the Bengkulu KDEKS to develop local wisdom
Reporter: Desca Lidya Natalia
Editor: Budisantoso Budiman
COPYRIGHT © BETWEEN 2023
source: www.antaranews.com