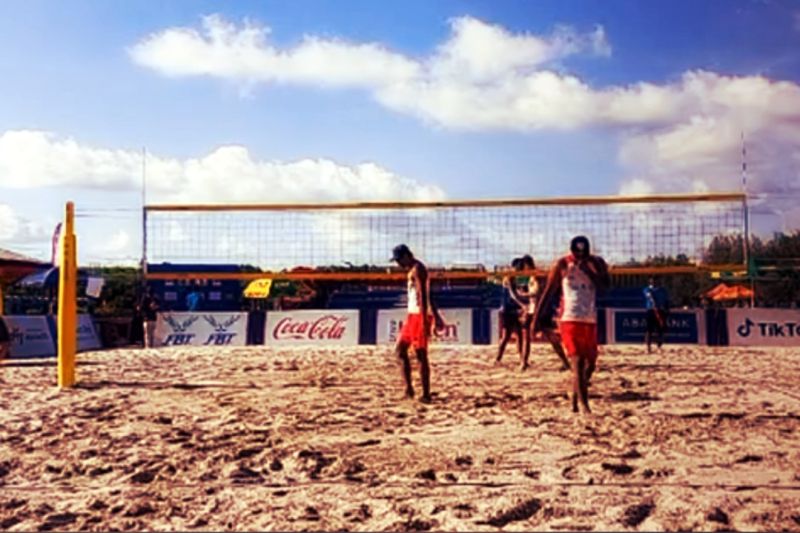 Sihanokville, Cambodia (Rifyu.com) – The Indonesian men's and women's teams won all matches in the group stage of the 32nd SEA Games Cambodia beach volleyball held in the Sihanokville beach area.
In the third game against Singapore on Sunday, the Indonesian men's team beat Singapore with a score of 2-0 without difficulty, as well as the third victory for Gilang Ramadhan and friends.
The Indonesian men who are members of pool B with Singapore, Thailand and Malaysia have previously recorded two wins
Against Singapore, the Indonesian team 1 consisting of Danangsyah Yudisthira Pribadi and Gilang Ramadhan defeated Singapore 1 (Melvin Teng Kuan Goh and Trevis Ray Meng Tan with a score of 2-0 (21-11 and 21-11), followed by the Indonesian team 2 which won over Fan Yang Shen/Kingsley Zi Hao Tay with a score of 21-7 and 21-15.
Also read: The Indonesian men's beach volleyball team scores a second win
In the first match, Indonesia beat Malaysia 2-0 and in the second match overcame Thailand's fierce resistance with a score of 2-1.
With that win, the men's team leads the standings in the preliminary round of Pool B with 6 points. The other three teams that have beaten each other both have 4 points from one win, one draw and one loss.
Meanwhile in the women's team category, the Indonesian team also led pool A by winning 4 points which was the result of wins over Cambodia and Singapore.
Indonesia is targeting a gold medal from the beach volleyball number to complement the gold medal previously won by Farhan Halim and friends from the indoor volleyball number.
Men's beach volleyball has become one of Indonesia's mainstays to gain gold medals because throughout the history of this competition in the SEA Games, Indonesia has dominated by sweeping all the championship titles from seven events since it was competed in the 2003 SEA Games in Vietnam.
Beach volleyball numbers were not contested in the 2013 (Myanmar), 2015 (Singapore) and 2017 (Malaysia) SEA Games.
Also read: Indonesian men's beach volleyball silences Malaysia 2-0 in team numbers
Reporter: Dadan Ramdani
Editor: Roy Rosa Bachtiar
COPYRIGHT © BETWEEN 2023
source: www.antaranews.com