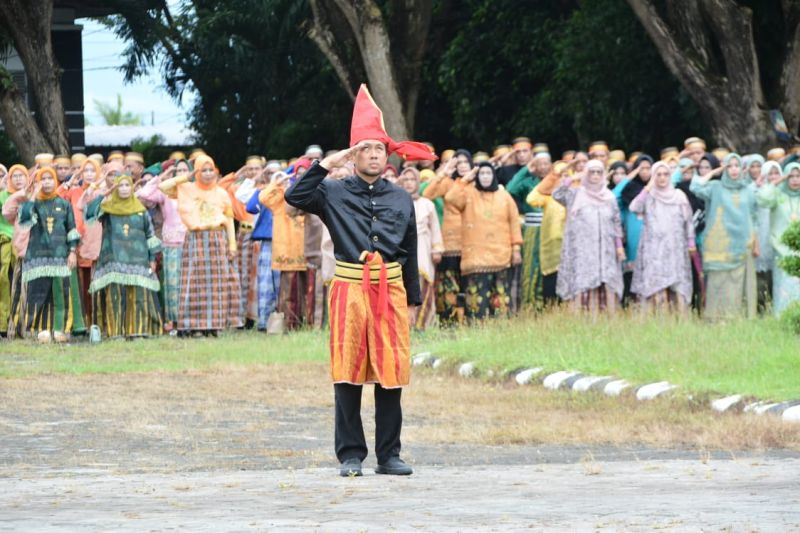 Makassar (Rifyu.com) – Sidrap Regent Dollah Mando invited students and education practitioners to continue the realization of Free Learning on National Education Day (Hardiknas) 2023 at the Sidrap Regency level at the SKPD Complex Field, Sidrap, Tuesday.
For Dollah Mando, this year's National Education Day is the right time to reflect on every challenge that has been faced, every inch of the brave step that has been taken.
"Therefore, let's brighten up this day with enthusiasm to continue the realization of Freedom to Learn," he said.
The form of Independent Learning that has been carried out so far is to educate generations of Pancasila Students who are intelligent with character and take Indonesia to jump into the future with an liberating education.
"By realizing the things we have done over the last three years, we can design the direction of our journey going forward to ensure the continuity and sustainability of the Merdeka Learning movement," he explained.
The commemoration of the National Education Day was part of a commemoration ceremony for the XXVII Regional Autonomy Day (Otda) in 2023, attended by elements of forkopimda, echelon II and III officials, sub-district heads, lurah and village heads.
Different from before, that occasion the ceremony participants wore traditional clothes as an appeal from the Ministry of Education, Culture, Research and Technology (Kemendikbud Ristek) in the 2023 National Education Day Commemoration Guidelines letter.
Dollah Mando, who read the uniform remarks of the Minister of Education, Culture, Research and Technology, Nadien Anwar Makarim, said that the 24 episodes of Merdeka Belajar that have been launched have brought Ki Hadjar Dewantara closer to the noble ideals.
"That is education that guides the talents, interests and potential of students so that they are able to achieve the highest safety and happiness as a human being and as a member of society," he said.
Our children, continued Dollah, can now also study more calmly because their learning activities are considered more holistic by their own teachers.
"School principals and regional heads who used to have difficulty monitoring the quality of their education can now use national assessment data in the education report card platform to improve the quality of education services," he said.
The commemoration of the 2023 Regional Autonomy Day carries the theme "Advanced Regional Autonomy, Superior Indonesia". The momentum of this commemoration encourages the regions to achieve fiscal independence by exploring various potential resources that can increase Regional Original Income (PAD) and spur acceleration and equitable development.
On the same occasion, a work agreement letter was also signed for the PPPK Office of Education and Culture and the awarding of Satyalancana Karya Satya to teachers who served 30, 20, 10 years.
Reporter: Nur Suhra Wardyah
Editor: Muhammad Yusuf
COPYRIGHT © BETWEEN 2023
source: www.antaranews.com