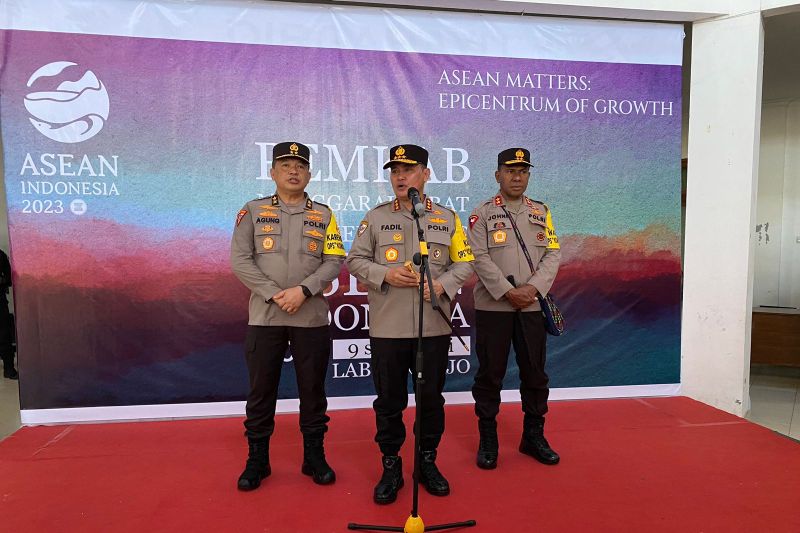 Jakarta (Rifyu.com) –
​​​The Republic of Indonesia National Police (Polri) together with the people of Labuan Bajo, East Nusa Tenggara (NTT), declared a commitment to support and succeed in holding the 42nd ASEAN Summit (KTT) in NTT, Saturday.
According to the Head of the Police Security Maintenance Agency, Komjen Pol. Muhammad Fadil Imran, in a written statement received in Jakarta on Saturday, said the declaration facilitated by him and NTT Regional Police Chief Johanis Asadoma was made because the people of NTT, especially Labuan Bajo, really wanted to participate in the success of the ASEAN Summit.
"Therefore, the NTT Regional Police Chief and I facilitated the making of the declaration. This declaration came from all walks of life," he said.
Police Commissioner General Muhammad Fadil Imran said that the people of Labuan Bajo believe that international activities such as the ASEAN Summit can indirectly revive the tourism potential that has become the backbone of their economy in recent years.
"So, they are very aware that this event must be successful because it involves the dignity of the nation as well as demonstrating to the world that this area is safe and worth visiting," said Fadil.
He then also conveyed that the security of the ASEAN Summit would involve as many as 2,627 joint personnel from the National Police Headquarters, the East Nusa Tenggara Regional Police and the surrounding regional police.
Later, he said, the thousands of personnel would be placed in Ring 1 with Paspampres, Ring 2 with the TNI to secure the area, and Ring 3 to secure the area.
"There are eight task forces prepared starting from pre-emptive actions (planning and decision-making), preventive (prevention), to escorts and rolakir (route, traffic and vehicle parking arrangements)," he said.
Regarding the implementation of this task, Fadil hopes that all task forces will prioritize prevention functions and anticipate potential disturbances that will occur during the ASEAN Summit.
The delegates and heads of state, he said, are scheduled to start arriving in Labuan Bajo on May 8.
Reporter: Tri Meilani Ameliya
Editor: D.Dj. Kliwantoro
COPYRIGHT © BETWEEN 2023
source: www.antaranews.com