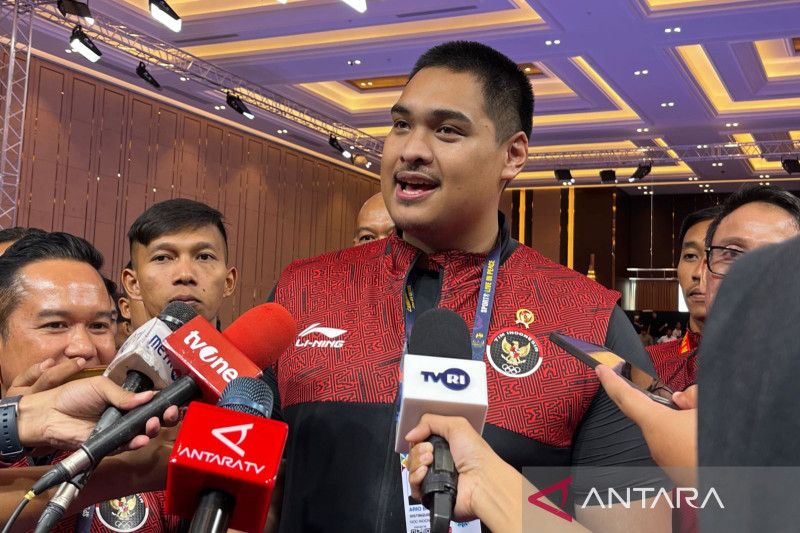 Phnom Penh (Rifyu.com) – Indonesian Minister of Youth and Sports (Menpora). Dito Ariotedjo hope that winning seven gold on the first day will make the Indonesian contingent stronger and excited to face the 2023 SEA Games in Cambodia.
"For today, thank God, we have won seven gold, five silver and 12 bronze medals, and meanwhile we are in the standings at number two. So, yes, God willing, with the optimism of all my friends, and appreciation for friends in all sports, I hope this ranking can be maintained, if possible it can rise to number one," said Menpora Dito when met after the Vovinam sports competition at the Chroy Changvar Convention Center Phnom Penh, Cambodia, Saturday.
Furthermore, Dito said the optimism to present gold and other medals at the biggest sporting event in Southeast Asia is expected to be maintained, considering that Indonesia is targeting 69 gold medals and being ranked 1st or 2nd in the 32nd edition of the SEA Games, in order to get achievements. which is better than the 31st SEA Games in Vietnam.
"What is certain is to keep the spirit going, and remember, we are carrying the Red-White flag, so do the best. We will leave the rest to God because we have made maximum preparations," said the youngest minister in the Onward Indonesia Cabinet.
Also read: Vovinam presents the seventh gold for Indonesia at the 2023 SEA Games
When asked about the overall evaluation of the various sports that have competed in the last few days, Dito said that so far there have been no significant obstacles. However, challenges such as the hot weather in Khmer Country have indeed become one of the highlights of the team and officials.
"So far, all the sports have felt smooth, there have been no records that are not bad, at most technical errors such as ID cards, and also hot weather. I admit that the heat is different and the air is humid," said Menpora Dito.
"But with a challenge like this, our achievements are very good and we hope to make the target 60 and even 69 even more. Now that we have seven (gold), there are still 62 more gold medals that we can win," he added.
Meanwhile, as of Saturday (6/5) at 18.50, the Indonesian contingent is ranked second in the 2023 SEA Games standings with a total of 25 medals including seven gold, five silver and 12 bronze.
Host Cambodia is still at the top with a total of 30 medals with 14 gold, nine silver and seven silver. Behind Indonesia is the Philippines which has collected a total of 19 medals with four gold, seven silver and eight bronze.
Also read: Cambodian Menpora apologizes for the upside-down Indonesian flag incident
Reporter: Arnidhya Nur Zhafira
Editor: Junaydi Suswanto
COPYRIGHT © BETWEEN 2023
source: www.antaranews.com