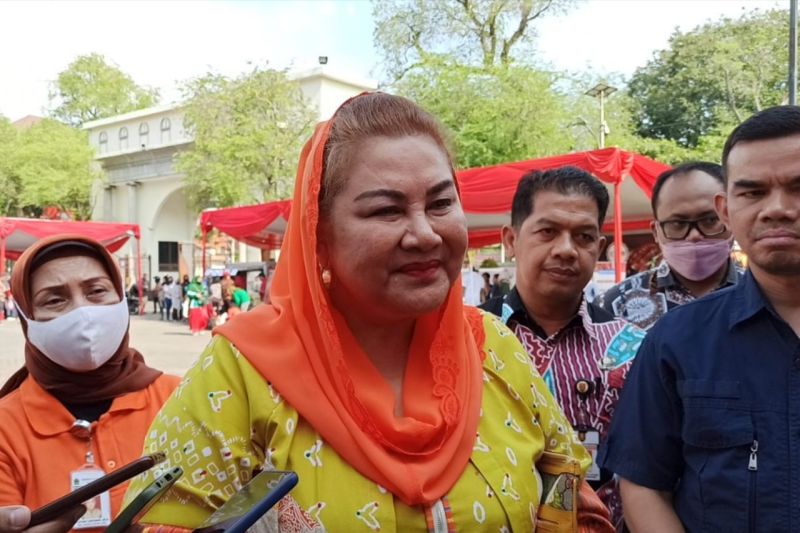 Let's try to eat staple food, not just rice. People think that rice must be made from rice
Semarang (Rifyu.com) – Semarang Mayor Hevearita Gunaryanti Rahayu asked the public, starting with the state civil apparatus (ASN) to diversify food so they do not depend on rice as a staple food.
"We hope we can change our culture. Let's try to eat staple food, not just rice. People think that rice has to be made from rice," said Hevearita Gunaryanti Rahayu on the sidelines of the launch of the Cheap Food Movement in Semarang, Central Java, Friday.
The launch of the Cheap Food Movement took place in the yard of Semarang City Hall initiated by the National Food Agency in collaboration with the Central Java Provincial Food Security Service and Semarang City Government and related stakeholders.
Ita, as Hevearita is affectionately known, gave an example of the existence of analog rice, namely a staple product similar to rice grains made from rice, but made from various other food ingredients, such as corn, cassava and porang.
"I want to try analog rice. Some are made from cassava and corn. Actually, some are from porang. Indeed, the price is still quite expensive, made possible because of the processing process. However, this analog rice is healthier," he said.
Also read: Semarang City Government urges people to pay attention to permits before buying a house
Because of that, he invited civil servants (PNS) and ASN first who felt they could afford it, given that the price of analog rice was still more expensive than rice from paddy.
"Try it from civil servants who can still afford to buy it. We try to socialize it to civil servants and civil servants, yes, the price is a bit higher (than rice). But they can still buy it, and it's healthier," he said.
Meanwhile, PT Gita Food Kartasura Marketing Reni Sulistiowati explained that analog rice uses corn and cassava as the basic ingredients which are molded into rice grains as usual.
However, he said, white rice produced from analog rice is better for health because it can stabilize sugar and is suitable for those who are on a diet program.
"This (analog rice) has zero sugar content, high fiber, and has been tested in the laboratory. It is cooked like normal white rice. You can use a 'rice cooker' or a steamer. The texture is the same as ordinary white rice, fluffier," he explained.
As for the price, he said a 700-gram pack of analog rice costs Rp. 15,000 from both corn and cassava, while noodles made from corn also cost Rp. 10,000 per pack.
The rice analogue of corn and cassava, said Reni, can also be consumed by children, even toddlers, and currently there are quite a lot of enthusiasts because people are increasingly aware of maintaining health.
Also read: The Mayor of Semarang ensures that SNC 2023 will be even more lively
Also read: Ganjar checks the progress of the Semarang-Demak toll road regarding tidal floods
Reporter: Zuhdiar Laeis
Editor: AgusSalim
COPYRIGHT © BETWEEN 2023
source: www.antaranews.com