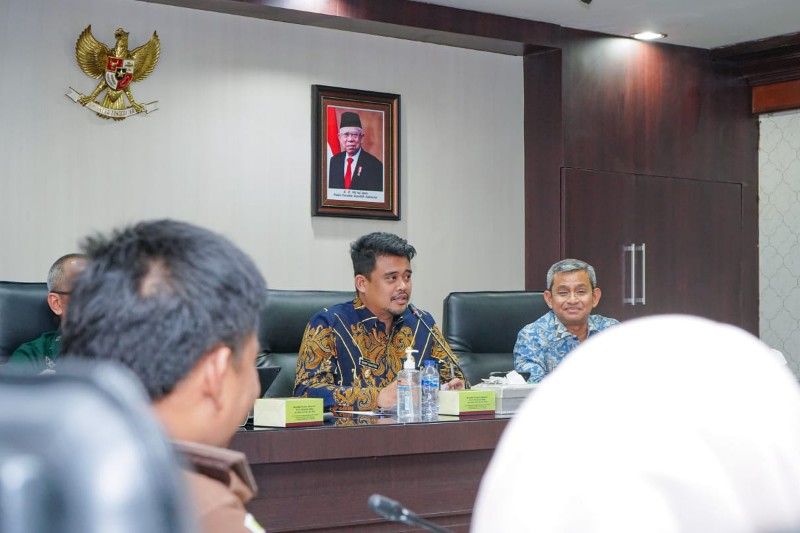 encourage wise shopping movement
Medan (Rifyu.com) – Medan Mayor Bobby Nasution asked the Medan City Government's land assets, North Sumatra, both in the center and on the outskirts of the city to be planted with various types of commodities to support regional level inflation control.
"This means that our land can function properly because we have a wide variety of up to tens of hectares. So it's a shame if it's not utilized," said Bobby in Medan, North Sumatra, Thursday.
His party has instructed the 21 district heads and 151 village heads in Medan City to find out the land assets belonging to the Medan City Government at yesterday's weekly meeting.
Also read: President Jokowi invites the use of yard land to plant chilies

Also read: Ambon residents are invited to take advantage of the empty canal tinal innovation
Data from the Regional Financial and Asset Management Agency for the City of Medan in 2022 shows that the number of parcels of land owned by the Medan City Government is 1,156 parcels, of which 817 parcels have been certified.
"In addition to cooperation between horticulture-producing regions, one of which has been established with Dairi Regency to overcome inflation in Medan City," he explained.
The Mayor appreciated the Medan City Regional Inflation Management Team (TPID) for their collaboration in efforts to control inflation in the capital city of North Sumatra Province.
Bobby revealed that Medan City's inflation rate in April 2023 was -0.20 percent, which is quite good data and figures.
"Of course this will have a big impact on economic recovery and investment. This is because potential investors first look at basic things in an area before making an investment," he said.
Also read: Optimizing the use of yard land for food security

Also read: Central Kalimantan PKK invites people to use their yards for family gardens
The Mayor also invited TPID to look again at the challenges ahead in controlling inflation, so that solutions to the obstacles discussed today can be found.
"Including the inter-regional cooperation that has been established, we also have to increase it again," explained Bobby.
​​​​​
Medan City Regional Secretary Wiriya Alrahman as Chair of the Medan City TPID admitted that various efforts were taken to control inflation, including affordability through market operations.
"During Ramadan and welcoming Eid al-Fitr we hold bazaars in 151 sub-districts throughout Medan City, monitor prices in the market and encourage wise shopping movements," explained Wiriya at the Medan City TPID High Level Meeting.
Also read: Governor of Gorontalo launches Germas Batanam Rica Sandiri
Also read: DPD members encourage strengthening chili cultivation business in Batam
Also read: BI Southeast Sulawesi handed over 500 chili seeds to Kendari Navy soldiers
Reporter: Muhammad Said
Editor: Budhi Santoso
COPYRIGHT © BETWEEN 2023
source: www.antaranews.com