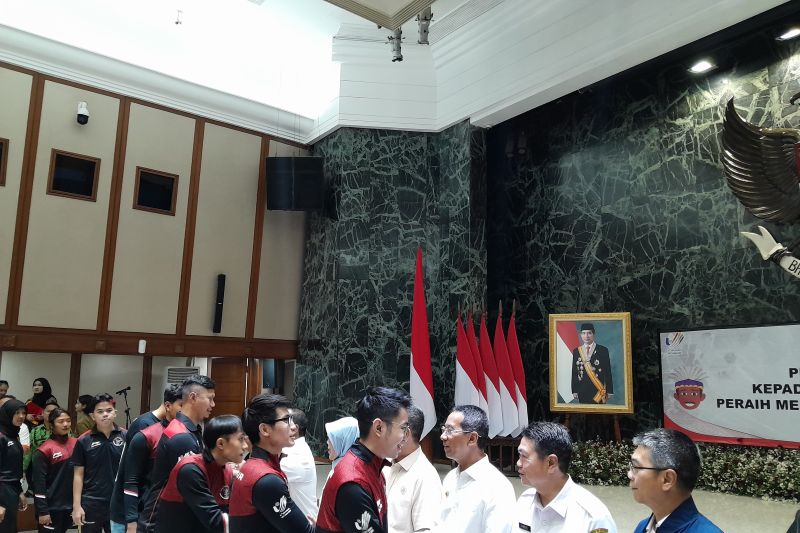 Jakarta (Rifyu.com) – The DKI Jakarta Provincial Government (Pemprov) gave appreciation and prizes to DKI Jakarta athletes who excelled at the 2021 Vietnam SEA Games which were held last year.
Located at Balai Agung, DKI City Hall, Central Jakarta, Wednesday, Acting (Pj) Governor of DKI Jakarta Heru Budi Hartono gave appreciation to the 123 Vietnam SEA Games contingents who came from DKI Jakarta.
In addition to appreciation, the DKI Jakarta Provincial Government gave bonus prizes in the form of cash for athletes Harvey Hubert Marcello in diving, Ummi Fisabilillah in chess, Nurul Sofiah in shooting and artistic gymnastics trainer Eva Novalina T Butar Butar.
"A total of 499 athletes who became Vietnam's SEA Games contingent, 123 athletes came from DKI Jakarta Province, 24% of the Indonesian contingent contributed athletes from Jakarta," said Chairman of the DPRD DKI Jakarta, Prasetyo Edi Marsudi gave a speech, Wednesday.
The Indonesian contingent from DKI Jakarta at the Vietnam SEA Games won 31 gold out of a total of 69 gold won by Indonesia at the event which was held in 2022.
"The Indonesian contingent won 69 gold, 91 silver and 81 bronze. Of the 69 gold won by Indonesian athletes, 31 gold were won by athletes from DKI Jakarta," said Prasetyo Edi Marsudi.
With the acquisition of these medals, the DKI Jakarta contingent became the largest contributor to winning gold medals at the 2021 Vietnam SEA Games.
Currently there are 129 athletes from DKI Jakarta who are the Indonesian contingent for the 2023 Cambodian SEA Games.
"There were 599 Indonesian athletes at the SEA Games in Cambodia, of which 129 athletes came from Jakarta Province," said Prasetyo Edi Marsudi.
Also read: The President welcomes the 2021 Vietnam Sea Games Team at the Palace
Also read: The National Police Chief awards outstanding members at the 2021 SEA Games
Read also: Stars that sank in Vietnam
Preacher: Fajar Satriyo
Editor: Junaydi Suswanto
COPYRIGHT © BETWEEN 2023
source: www.antaranews.com