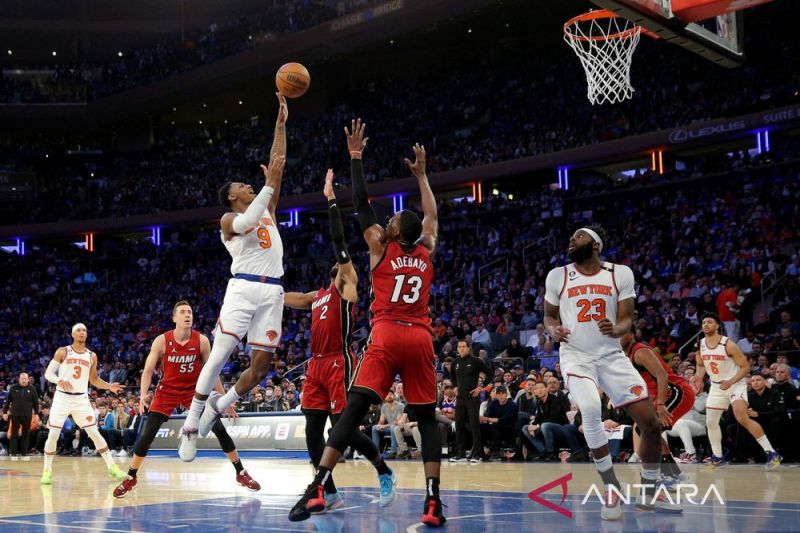 Jakarta (Rifyu.com) – The Miami Heat continued their winning streak in the playoffs by securing the first game of the NBA Eastern Conference semifinals against the New York Knicks 108-101 in a match that was held at Madison Square Garden, New York, Monday WIB.
Jimmy Butler was once again a decisive player for the Heat by scoring 25 points and 11 rebounds. Even though Butler sprained his right leg in the fourth quarter, he forced the coach to play him anyway to secure victory for the team.
"We played great basketball," Butler said, citing the NBA's official website.
"We are together, playing home, away, through the good and the bad. We believe that we can do something special," continued a still-limping Butler in a post-match media interview.
Also read: Curry sets a record, Warriors advance to Regional Semifinals
Also read: The Heat rise to win the game, the Bucks are in danger of failing in the playoffs
Heat has risen. After losing last season in the Eastern Conference NBA Finals, finishing eighth this season, just beat the Milwaukee Bucks who are number one in the Eastern Conference, now winning the first game of the regional semifinals.
The Knicks had led the way in the first half of the game until they had a 12-point lead. But the Heat hit back early in the third quarter and maintained a lead of just over five points into the game.
Gabe Vincent added 20 points for the Heat, Kyle Lowry had 18 and Bam Adebayo had 16.
RJ Barrett scored 26 points for the Knicks, Jalen Brunson had 25 points and Obi Toppin had 18 points.
The second game between the Heat and the Knicks will be held in New York on Wednesday (3/5).
Also read: Lakers silence Grizzlies 40 points, qualify for Western Conference semifinals
Reporter: Aditya Ramadhan
Editor: Teguh Handoko
COPYRIGHT © BETWEEN 2023
source: www.antaranews.com