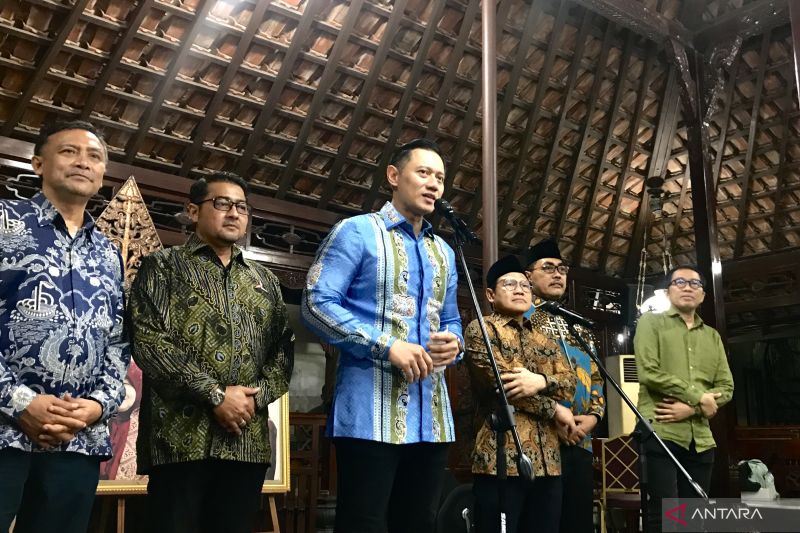 Bogor (Rifyu.com) – High-ranking members of the Democratic Party and PKB officials discussed ways to prevent the 2024 General Election (Pemilu) from becoming an arena for clashes between groups, especially those using ethnic, racial, religious and class identities.
The issue of identity groups was one of the topics discussed by PKB General Chairperson Muhaimin Iskandar when meeting Democratic Party General Chair Agus Harimurti Yudhoyono, and Democratic Party Upper House Chair Susilo Bambang Yudhoyono at SBY's residence in Puri Cikeas, Bogor, West Java, Wednesday (3 /5).
"We have hope that Indonesia will no longer be a field for clashes between groups, let alone between identity groups. Dangerous. I think we are all nationalists, patriots who want to develop their country, who love their country," said Agus Harimurti Yudhoyono (AHY) when conveying the results of the meeting to the media at the Puri Cikeas pavilion, Bogor, Wednesday.
Not only that, AHY conveyed that a meeting between himself, Muhaimin, and SBY also discussed the 2024 Election. Both parties agreed that general elections must run freely, fairly, and democratically.
"We take care of it together. That is why earlier we agreed that PKB and the Democrats wanted to be part of ensuring that our elections, the presidential election (presidential election) and the legislative election (election for legislative members) went without intervention, intimidation, let alone fraud," said the General Chair of the Democrats.
Also read: AHY values ​​Democratic and PKB meetings as a form of political maturity
The two parties, AHY added, also discussed the importance of building sound and inclusive governance.
"So that's all we talked about, including how in the future we can build with a focus on sound governance. Everyone has a role. There should not be anyone who dominates certain political forces so that they do not carry out development in an inclusive manner," said AHY.
Despite the differences in attitudes and positions of the two parties regarding the choice of presidential candidates (candidates) and coalitions, AHY said that each party needs to understand that the 2024 Election is not an arena for gaining power.
"The 2024 election is not just an event or competition for power. Power is a small part of our efforts to bring about change and improvement," said AHY.
At the same location, PKB Chairman Muhaimin Iskandar said that differences in attitudes in politics were not a reason to close or limit communication between political parties.
"Communication is very important to strengthen solidarity and friendship so that our discussion concerns development challenges, including the preparation of each party for the 2024 elections," said Muhaimin Iskandar.
Also read: Cak Imin: My plan is to influence Mas AHY, but his faith is strong
Also read: Democrats: PKB gathering in Cikeas to maintain communication ahead of the election
PKB General Chairperson Muhaimin Iskandar along with several members of the PKB central board visited the residence of the 6th Indonesian President Susilo Bambang Yudhoyono at Puri Cikeas, Bogor, Wednesday. PKB officials also met and discussed with SBY, AHY, and the ranks of the Democratic central board for more than 1 hour.
After the meeting in SBY's private library, AHY and Muhaimin continued to meet face to face for more than 30 minutes.
Several high-ranking political parties took advantage of the Eid moment to stay in touch with each other and explore opportunities to work together for the 2024 presidential and general elections.
Registration for presidential and vice presidential candidates is scheduled to take place from 19 October 2023 to 25 November 2023.
Law Number 7 of 2017 concerning Elections (UU Election) stipulates that the presidential and vice presidential candidate pairs are proposed by political parties or coalitions of political parties participating in the election that meet the requirements of obtaining seats of at least 20 percent of the total seats in the DPR or obtaining 25 percent of valid votes. nationally in the previous parliamentary elections.
Currently, there are 575 seats in parliament so the presidential and vice presidential candidate pairs in the 2024 presidential election must have the support of at least 115 seats from the Indonesian Parliament. Candidate pairs can also be nominated by political parties or a combination of political parties participating in the 2019 Election with a minimum total of 34,992,703 valid votes.
Herald: Genta Tenri Mawangi
Editor: Teguh Handoko
COPYRIGHT © BETWEEN 2023
source: www.antaranews.com