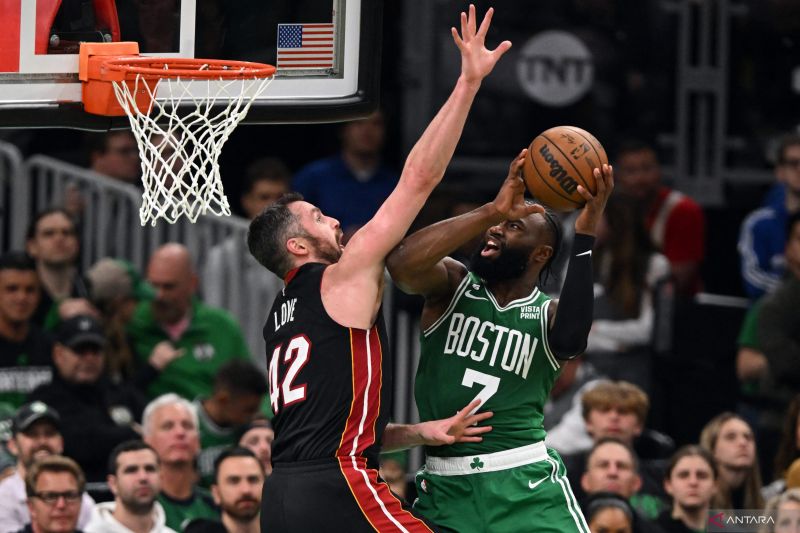 Jakarta (Rifyu.com) – The Boston Celtics managed to secure game five of the Eastern Conference Finals with a 110-97 win against the Miami Heat in a match that was held at the TD Garden Arena Boston Massachusetts, Friday WIB, while keeping hopes of continuing to compete in the NBA Finals.
The Celtics came from behind in a series of Eastern Finals that had lost 3-0 to Miami, now 3-2 and forced both teams to play the sixth game.
Boston showed its class in front of a crowd at the TD Garden Arena by scoring nearly half the points with a 3-pointer.
Of the total 110 points amassed by the Celtics, 48 ​​of them were made by shooting from 7.3 meters into the basket.
"We have to do everything to win," Derrick White said after the game, citing the NBA's official website.
Also read: Celtics rise in game four, overcome Heat 116-99
Derrick White is the scorer of the most three-point shots, namely 18 points, or managed to enter six out of a total of eight three-point shot attempts made.
In this fifth game, Celtics star Jayson Tatum was not the top scorer as he usually is. This time almost the entire Celtics roster contributed to scoring.
Derrick White led with 24 points, Marcus Smart had 23 points, Jaylen Brown had 21 points and Jayson Tatum had 21 points plus 11 assists and eight rebounds.
Thanks to the team from Boston's solid play, Tatum and his friends were able to control the match from the first quarter until the buzzer sounded in 48 minutes of playing time.
The Celtics have always led throughout the game with the highest difference of 24 points. Even the Miami Heat could not provide any resistance or equalize.
Jimmy Butler, who was usually fierce from the first game to the third round of the Eastern Finals, could only give the Heat 14 points.
Duncan Robinson contributed the most scores with 18 points, Bam Adebayo 16 points, Haywood Highsmith 15 points and Caleb Martin 14 points.
The Heat only need to win one more game to qualify for the NBA Finals against the Denver Nuggets. While the Celtics need two more wins to reach the final.
The sixth game of the East Final will be held again in Miami on Sunday (28/5).
Read also: Heat destroys Celtics in Miami 128-102
Also read: Jokic's triple-double brought the Nuggets to the NBA Finals for the first time
Reporter: Aditya Ramadhan
Editor: Teguh Handoko
COPYRIGHT © BETWEEN 2023
source: www.antaranews.com