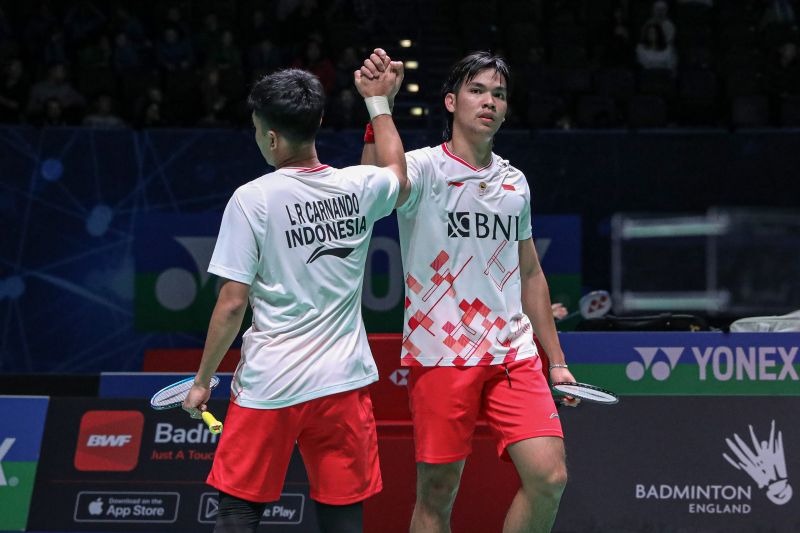 We thank God for smoothness and victory today.
Jakarta (Rifyu.com) – Men's doubles Leo Rolly Carnando/Daniel Marthin eliminated world champions Aaron Chia/Soh Wooi Yik to advance to the semifinals of the 2023 Malaysia Masters, Friday evening Kuala Lumpur time.
The pair nicknamed The Babies defeated Aaron/Soh, who were also the co-hosts, in two straight games 21-18, 21-19.
"We are grateful to God for the smoothness and victory today. It was actually not easy because the ball was slow, so we just tried it all out, not afraid of getting tired," said Daniel about his victory, through an official PP PBSI message in Jakarta, Saturday.
At the start of the match, Leo/Daniel had no intention of losing to the pair Aaron/Soh, bearing in mind the opponent's playing patterns tended to be fast.
Moreover, the two pairs have often met, and Leo/Daniel have also started studying Aaron/Soh's game character and remembering mistakes from the previous match.
In the last match at the Badminton Asia Championships (BAC) in Dubai, April, Leo/Daniel lost to the Malaysian duo due to their relatively light character.
"The character of the ball is quite influential. When in Dubai, the ball was tight and slightly twisted. But here, even though it is a bit slow, it is stable. We are more in control, calmer and not in a hurry," said Leo.
After stealing the lead in the first game, and feeling the heavy shuttlecock conditions, The Babies finally decided to play bolder in the second game.
"On the final point of the second game, I was just speculating by hitting it repeatedly. Instead of setting (a match point draw), we tried to finish it off. Luckily their returns came out," Daniel added.
In the last four, Leo/Daniel will again face the host pair Man Wei Chong/Kai Wun Tee. The Man/Kai pair advanced to the semifinals after defeating Hendra Setiawan/Mohammad Ahsan 23-21, 21-17 in the quarter-finals on Friday.
"For tomorrow against the hosts again. We will study their game, but the most important thing now is that we hope we can get enough rest. We played once tonight today," said Daniel too.
Also read: Leo/Daniel are dissatisfied because they repeat last year's All England results
Also read: Indonesia lost points after Leo/Daniel lost in the fourth party
Reporter: Roy Rosa Bachtiar
Editor: Budisantoso Budiman
COPYRIGHT © BETWEEN 2023
source: www.antaranews.com