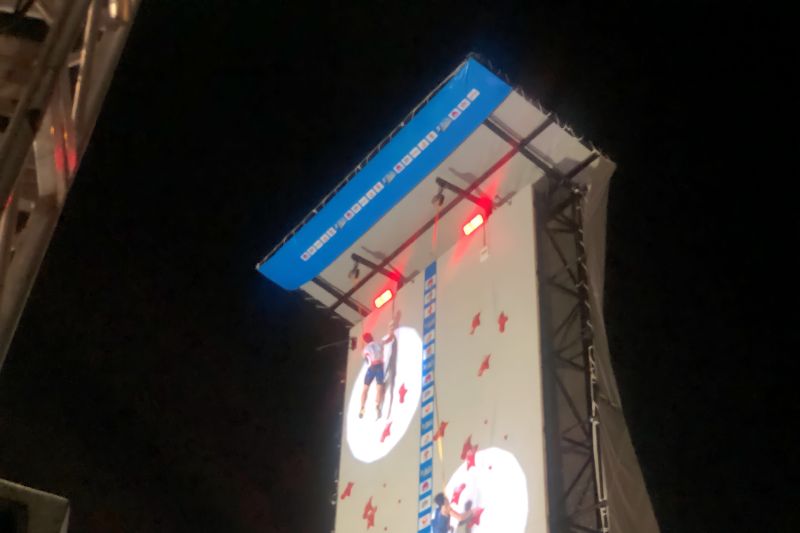 Jakarta (Rifyu.com) – Six male athletes in the Indonesian rock climbing branch in the speed category have qualified for the last eight of the 2023 Jakarta Rock Climbing World Cup or International Federation of Sport Climbing (IFSC) World Cup 2023 Jakarta which was played at Lot 6 at Gelora Bung Karno Stadium (GBK) ), on Saturday night.
The six athletes are Kiromal Katibin, Veddriq Leonardo, Rahmad Adi Mulyono, Raharjati Nursamsa, Zainal Aripin, and Aspar Aspar, according to the IFSC's official website.
It was recorded that three Indonesian male athletes filled the top five positions.
Kiromal Katibin emerged as the fastest with a time of 5.03 seconds, followed by another Indonesian athlete in second place, namely Veddriq Leonardo with a time of 5.09 seconds. Then there is Rahmad Adi Mulyono who is in fourth place with a time of 5.14 seconds.
Two other male athletes were ranked in the top 10 and one other in the top 15.
Raharjati Nursamsa was in sixth place with 5.18 seconds and followed by Zainal Aripin with a record of 5.243 seconds in ninth position.
Meanwhile, in the top 15 there is Aspar Aspar with 5.33 seconds. The 30-year-old athlete was in 15th position out of a total of 16 athletes who qualified for the round of 16 finals.
Furthermore, before placing six male athletes in the quarter-finals of the 2023 IFSC World Cup Jakarta, Indonesia had already placed four female athletes in the top 16 of women's speed with the names Desak Made Rita Kusuma Dewi, Rajiah Sallsabillah, Nurul Iqamah, and Mutia Amanda Narda.
The following is a complete list of 16 athletes who have qualified for the round of 16 finals of the IFSC World Cup 2023 Jakarta series:
1. Chiromal Katibin (INA) 5.03 seconds
2. Veddriq Leonardo (INA) 5.09 seconds
3. Samuel Watson (USA) 5.13 seconds
4. Rahmad Adi Mulyono (INA) 5.14 seconds
5. Liang Zhang (CHN) 5.16 seconds
6. Raharjati Nursamsa (INA) 5.18 seconds
7. Peng Wu (CHN) 5.21 seconds
8. Jun Yasukawa (JPN) 5.22 seconds
9. Zainal Aripin (INA) 5.243 seconds
10. Jinbao Long (CHN) 5.248 seconds
11. Matteo Zurloni (ITA) 5.271 seconds
12. Euncheol Shin (KOR) 5.278 seconds
13. Xinshang Wang (CHN) 5.28 seconds
14. Long Cao (CHN) 5.29 seconds
15. Aspar Aspar (INA) 5.33 seconds
16. Yaroslav Tkach (UKR) 5.35 seconds.
Also read: Four Indonesian female athletes advanced to the IFSC World Cup finals
Also read: The 2023 Rock Climbing World Cup Jakarta series is officially opened
Also read: Yenny Wahid called China and America the toughest opponents in the IFSC World Cup
Reporter: Zaro Ezza Syachniar
Editor: Guido Merung
COPYRIGHT © BETWEEN 2023
source: www.antaranews.com