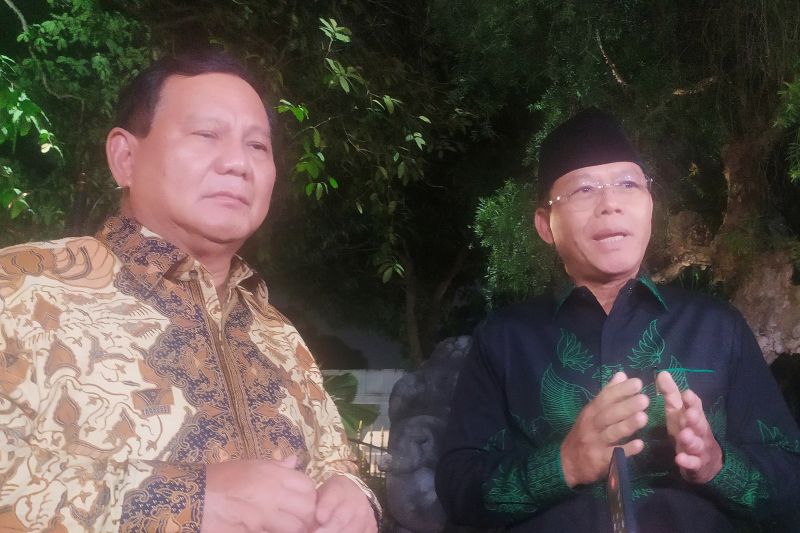 Jakarta (Rifyu.com) – Acting General Chair of PPP Mardiono revealed that the atmosphere of the meeting between President Joko Widodo and the six general chairmen (ketum) of the government coalition parties was filled with happiness and laughter, and did not discuss practical political matters such as the stock exchange of presidential candidates in the 2024 election. .
"Very happy, lots of laughs. The food is also very delicious, there are prawns, they are very delicious," said Mardiono at the Merdeka Palace, Jakarta, Tuesday (2/5) evening, after the 2.5 hour meeting.
Mardiono emphasized that the meeting also showed that the government coalition party was still strong.
"So, the coalition parties with the government are all still strong and still communicating intensely. We were invited to have dinner with the President to discuss Indonesia, Eid al-Fitr, thank God, then the handling of traffic jams was not as good as before. Thank God, this is the best," he said .
Also read: PPP: Jokowi's meeting with the political party heads did not discuss a reshuffle
According to Mardiono, a number of matters were discussed in a relaxed atmosphere but still oriented towards Indonesia's future development.
One of the topics discussed, he said, was the importance of political stability and commitment to maintaining democratic parties so that they could be enjoyed by the people. In addition, he said, political stability must be able to bring Indonesia to face various challenges, including the challenge of demographic bonuses.
The meeting from 19.00 WIB to 21.30 WIB was attended by six political party chairmen namely PDIP Ketum Megawati Soekarnoputri, Golkar Ketum Airlangga Hartarto, Ketum Gerindra Prabowo Subianto, Ketum PKB Muhaimin Iskandar, Ketum PAN Zulkifli Hasan, and Plt Ketum PPP Mardiono.
Mardiono said that the Ketum Nasdem Surya Paloh was not present at the meeting because he was abroad.
"So yes, the discussion is not too heavy, light-hearted but what is certain is for Indonesia in the future," he said.
Also read: Prabowo calls Jokowi asks the coalition of supporting political parties to remain compact
The meeting between Jokowi and the ranks of the government coalition political parties was held behind closed doors. When the meeting ended, Megawati first left the Merdeka Palace in a car accompanied by PDI-P Secretary General Hasto Kristiyanto. After Megawati, then Airlangga and Muhaimin Iskandar walked hand in hand to leave the Palace.
Furthermore, Prabowo, Zulkifli Hasan, and Mardiono walked together to leave the Palace.
Regarding Megawati who left the Palace first, Mardiono said that because the 5th President of the Republic of Indonesia was immediately escorted by President Jokowi.
"Oh yes, because Mr. President had delivered to the front and Mrs. Mega's car that had picked up earlier, Mrs. Mega came out first," he said.
As for Airlangga, who seemed so close to Muhaimin Iskandar at that meeting, Mardiono thought it was just a coincidence.
Also read: President Jokowi meets general chairmen of political parties at the Palace
Airlangga is a coalition partner with Mardiono and Zulkifli Hasan in the United Indonesia Coalition (KIB) to welcome the 2024 elections. However, PPP has decided to support PDI-P cadre Ganjar Pranowo as the 2024 presidential candidate.
Meanwhile, Muhaimin Iskandar and his party, PKB, formed a coalition with Gerindra.
"By coincidence, earlier we were still chatting with Pak President, with Pak Prabowo. Already (Airlangga and Muhaimin) went first, there were no problems, we talked together earlier," said Mardiono.
Preacher: Personal Indra Arief
Editor: Bambang Sutopo Hadi
COPYRIGHT © BETWEEN 2023
source: www.antaranews.com