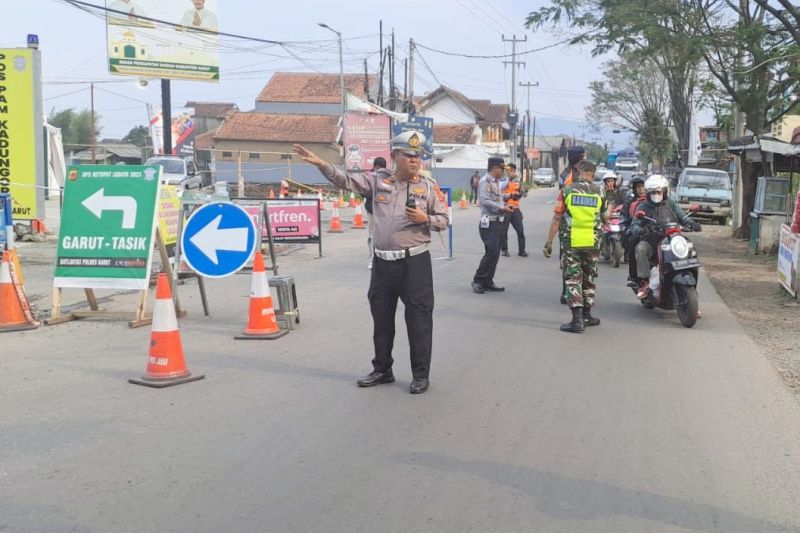 Quite a lot of directions to Bandung
Garut (Rifyu.com) – The Garut Resort Police said that the traffic from Garut to Bandung crossing Kadungora, Garut Regency, West Java was still full of traffic on the last day of the Eid holiday, Sunday (30/4).
Head of Garut Police Traffic Operation Development Affairs Iptu Suarna said the Tarogong-Kadungora route to Bandung was still busy with two- and four-wheeled vehicles, even though the traffic flow was under control, it could still move.
"There are quite a number of directions to Bandung," said Suarna.
He conveyed that a number of personnel from the police and other agencies were still on standby to secure and regulate the flow of vehicle traffic from Garut to Bandung on the last day of the Eid holiday.
The density of vehicle traffic on the Kadungora route, he said, occurred during the day and evening, so a one-way system was implemented several times to reduce vehicle speed so that there was no traffic jam from Garut to Bandung.
Also read: The Padalarang-Cianjur route is still busy and smooth
Also read: Bandung Station is still busy with traffic on Sunday night
In fact, he continued, the flow of vehicles was also congested from Bandung to Garut, so the police implemented an alternative route, namely the Kadungora ring road to avoid congestion on the main road.
"Five times it was carried out in one direction or one way, three withdrawals from the Bandung direction, two withdrawals from Garut direction, the Leles-Kadungora current situation is smooth," he said.
He added that the volume of vehicles on Sunday (30/4) night was observed to be less than in the afternoon, so there was no congestion on the route, even so his staff remained on alert because it was predicted that there would still be an increase in the flow of vehicles heading to Bandung.
"Today's predictions have increased," he said.
Apart from the Leles-Kadungora route, other main routes across Malangbong-Limbangan are also reported to be still being used by motorized vehicles from the Tasikmalaya direction to Bandung.
Also read: Jasa Marga: Discounted toll rates are effective in solving the traffic congestion
Read also: 6,270 voters arrived at Kampung Rambutan Terminal
Herald: Purnama Ferry
Editor: Indra Gultom
COPYRIGHT © BETWEEN 2023
source: www.antaranews.com