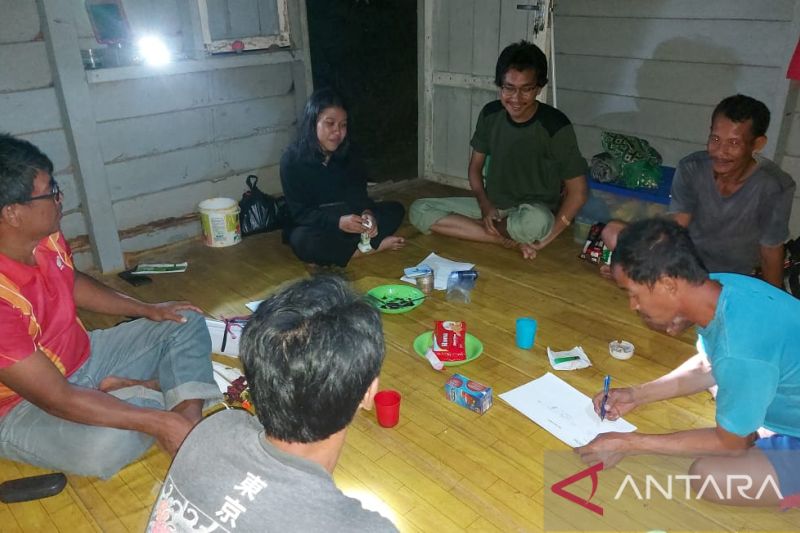 Tanjung Selor (Rifyu.com) – The Indonesian Conservation Community (KKI) Warsi is collaborating with the University of Indonesia (UI) through the Free Learning Campus Merdeka (MBKM) program to strengthen the institutions of the Punan and Kenyah tribes in Malinau District, North Kalimantan (Kaltara).
"This collaboration has started March – July 2023, and MBKM was launched by the Ministry of Education and Culture to encourage students to improve their skills soft skills And hard skills," said the Head of the FISIP UI Anthropology Study Program, Imam Ardhianto in Malinau, Sunday.
Two Anthropology students, namely Umar Nurhamzah Yusup and Humairah Nur Ramadilah Kurnia have been placed in Long Nyau Village, Sungai Tubu District, Tanjung Nanga Village, and Long Lake Village, Malinau Selatan Hulu District. Both of them will support the development of Village Information Application Micro Space Potential (PRM – AID).
Also read: Dayak Punan Uhen Kereho sues PT KWI regarding the shift in boundary markers
Imam Ardhianto said that so far students have participated in the MBKM program in the private sector. KKI Warsi was chosen as the platform for implementing MBKM because it wanted to diversify the pathways for strengthening the affective skills of UI Anthropology students. So, students can apply the knowledge that is processed into an advocacy framework.
With the MBKM program and anthropological studies in Malinau District, UI can become a facilitator between groups that have different cultural and social differences. The hope is that it can help the district government to deal with inter-ethnic problems along with investment, infrastructure development and others.
According to Umar Nurhamzah Yusup, an Anthropology student who has provided assistance in the village of Long Nyau, the Punan ethnic community living in the interior of North Kalimantan is still adapting to the times. However, it does not eliminate local culture and wisdom.
"Access to Long Nyau village is very difficult, I have to travel overland for six to seven hours. Continue on foot for eight hours to the village of Long Nyau. Even though they are in the interior of Borneo, they adapt to technology. With PRM AID, they have a village database and facilitate village administration," he said.
Meanwhile, KKI Warsi Project Officer Anna DS said that KKI Warsi collaborated with various parties, such as the government, institutions, and educational institutions through the MBKM program.
Also read: Ministry of Village Development of PDTT visits rural villages in Malinau, Kaltara
Also read: Malinau Regency Government-KKI Warsi cooperate in empowering border communities
"With the MBKM program, UI Anthropology students are directed to interact directly and intensively with the people who live in and around forests. They are given space to implement their academic knowledge specifically in facilitating the introduction of technology through the construction and development of PRM AID," he said.
Currently the PRM AID application has been developed in nine villages in Malinau District, namely Long Jalan, Naha Kramo Baru, Metut, Tanjung Nanga, Long Pada, Long Nyau, Long Alango, Data Dian, and Apauping.
Reporter: Muh. Arfan
Editor: Endang Sukarelawati
COPYRIGHT © BETWEEN 2023
source: www.antaranews.com