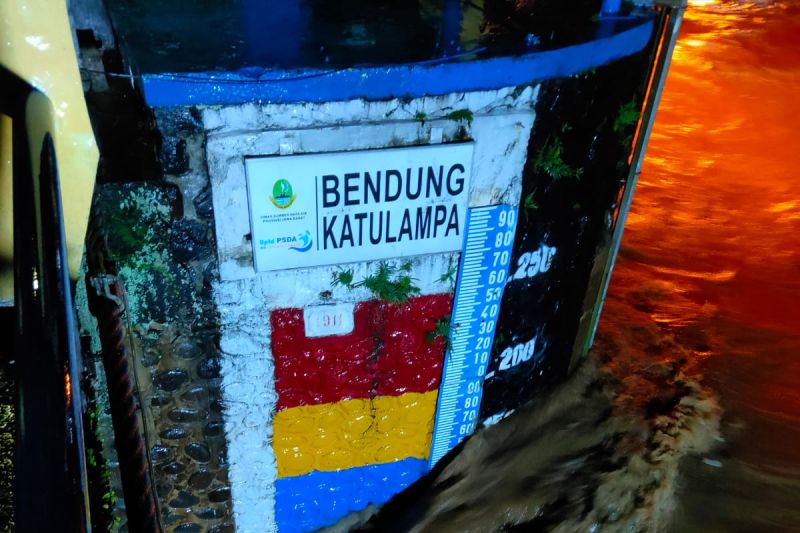 Bogor City (Rifyu.com) – The Katulampa Dam, Bogor City, West Java, which is fed by the Ciliwung River, has a Jakarta flood alert status of 3 with a rise in the water level (TMA) reaching 140 cm on Wednesday, 19.42 WIB.
Chief Guard Officer of the Katulampa Dam Andi Sudirman in Bogor, Saturday night, said the heavy rain accompanied by lightning in the Puncak Bogor area had an impact on raising the TMA at the Katulampa Dam this evening.
"Moderate to heavy rain in Puncak occurred from the afternoon and evening until tonight raising the TMA Bendung Katulampa," he said.
He said the TMA increase at the Katulampa Weir continued to occur in 42 minutes from a height of 80 cm with normal status at 19.00 WIB, rising to 90 cm at 19.06 WIB, then 130 cm at 19.16 WIB, up to 140 cm at 19.42 WIB.
Also read: The Katulampa Dam in Bogor is normal even though it rains every afternoon
The increase also coincided with heavy rains that flushed almost evenly in the Bogor area.
Light to moderate rain has occurred since noon in the Bogor City area. Heavy rain around 17.30 to 19.00 WIB. Currently, light rain accompanied by lightning still flushes the area of ​​Bogor City.
This condition is in line with the Meteorology, Climatology and Geophysics Agency's (BMKG) weather forecast on Wednesday night that heavy rain accompanied by lightning has the potential to flush the Bogor Regency and City areas.
Until tonight, the peak area and its surroundings are still being showered with moderate intensity rain. The water discharge from Bogor to Jakarta is estimated in the early morning or early morning.
According to Andi, the possibility of the TMA declining again could happen sooner or later depending on the rain that occurred in Puncak, Cisarua, Bogor Regency.
With moderate intensity rains still flushing the Puncak area, Jakarta's flood alert could increase to Alert 2 to Alert 1.
"Jakarta residents should be vigilant. The rain is still continuing in the Ciliwung upstream in the Puncak Bogor area," he said.
Also read: DKI BPBD absorbs flooding in 15 RTs in Jakarta
Also read: Mayor warns residents of Bogor to Jakarta to be on flood alert
Reporter: Linna Susanti
Editor: M. Hari Atmoko
COPYRIGHT © BETWEEN 2023
source: www.antaranews.com