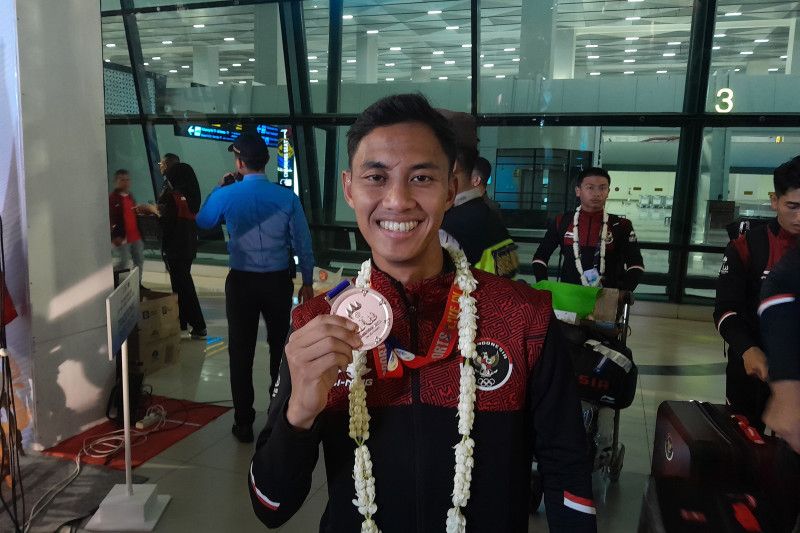 Jakarta (Rifyu.com) – Indonesian hockey athlete Abdullah Jihad Al Akbar revealed that the Indonesian hockey team should be able to gain an additional gold if they maximize the match against Singapore.
Abdullah Jihad Al Akbar, who appeared in the men's outdoor hockey category, won a bronze medal for Indonesia at the 2023 SEA Games in Cambodia.
"We should be able to focus even more when facing important games. Yesterday we had a draw with Singapore, if we win, we should be able to play in the final. Because yesterday was a draw, we had to settle for playing in third place," said Abdullah Jihad Al Akbar to reporters when met at terminal three of Soekarno-Hatta airport, Tangerang, Thursday evening.
The hockey team's achievements at the SEA Games in Cambodia were quite promising by scoring one gold and three bronze because hockey was not contested in the two previous SEA Games.
The athlete from Jakarta revealed that the obstacle during the SEA Games in Cambodia was more the hot weather with temperatures reaching 39 to 40 degrees.
"The most obvious obstacle is the weather. Because we play in 39 to 40 degree weather during the day," said the athlete who is often called Jihad.
After appearing at the SEA Games, in the future the Indonesian hockey team is preparing to face the Asean Games in Hangzhou, China on September 23.
Also read: SEA Games gold is Prima's hope to pass Indonesia to the Hockey World Cup
Also read: High school students welcome hockey athletes from West Java who won gold at the SEA Games
Also read: Aimelis' sacrifice left sweet fruit
Preacher: Fajar Satriyo
Editor: Dadan Ramdani
COPYRIGHT © BETWEEN 2023
source: www.antaranews.com