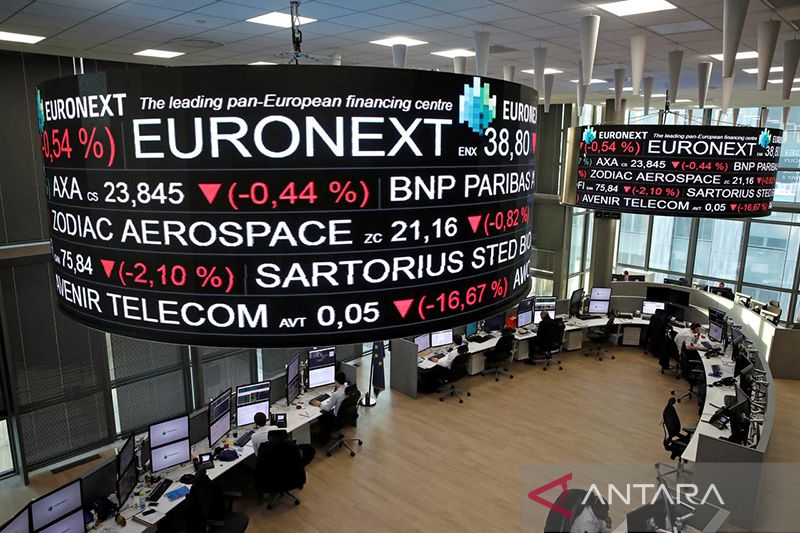 Of the 40 stocks of selected large companies that are components of the CAC 40 index, 32 stocks managed to gain profits
PARIS (Rifyu.com) – French stocks ended sharply higher in trading Friday local time (26/5/2023), snapping four straight days of losses, with the benchmark CAC 40 index on the Paris Stock Exchange rising 1.24 percent, or 89.91 points to settle at 7,319.18.
The CAC 40 index was cut by 0.33 percent or 24.19 points to 7,229.27 on Thursday (25/5/2023), after falling 1.70 percent or 125.25 points to 7,253.46 on Wednesday (24/5/2023) ), and decreased by 1.33 percent or 99.45 points to 7,378.71 on Tuesday (23/5/2023).
Of the 40 selected large company stocks that are a component of the CAC 40 index, 32 stocks managed to gain profits, while six stocks suffered losses and two stocks were traded unchanged.
STMicroelectronics NV, a company that designs, develops, manufactures and markets semiconductor integrated circuits jumped 3.84 percent, the biggest gainer (top gainer) of leading stocks or blue chips.
Also read: French stocks lost for the fourth day, the CAC 40 index was cut by 0.33 percent
Followed by holding company and French multinational conglomerate specializing in the production of luxury fashion goods LVMH Moet Hennessy Louis Vuitton rose 2.44 percent; and a company that designs, manufactures and distributes personal luxury accessories and apparel Hermes International SCA rose 2.32 percent.
Meanwhile, Worldline SA, a French multinational payment and transactional services company suffered the most losses (top loser) among the top stocks, its share price slipped 1.80 percent.
They were followed by Paris-headquartered European multinational commercial property and real estate developer Unibail-Rodamco-Westfield SE, losing 1.04 percent; and French multinational telecommunications company which has 266 million subscribers worldwide Orange SA fell 0.45 percent.
Also read: French stocks end in the red zone, the CAC 40 index drops 1.70 percent
Also read: French stocks lost for the second day, the CAC 40 index decreased by 1.33 percent
Translator: Apep Suhendar
Editor: AgusSalim
COPYRIGHT © BETWEEN 2023
source: www.antaranews.com