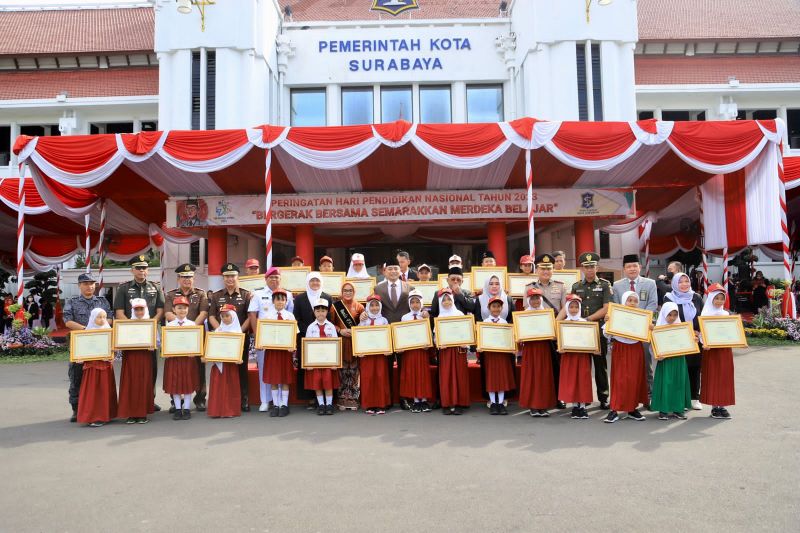 Surabaya (Rifyu.com) – The leadership of the Surabaya City Council emphasized the importance of improving the quality of education in the City of Heroes, East Java, through the implementation of the independent learning curriculum.
"Improving the quality of education is the basis on which students can ultimately explore their knowledge and develop their knowledge," said Deputy Chairperson of the Surabaya DPRD, Reni Astuti, in a written statement in Surabaya, Wednesday.
In accordance with the theme of the 2023 National Education Day (Hardiknas), namely "Moving Together to Enliven Freedom of Learning", he continued, it is a shared enthusiasm for realizing a better Indonesian education while at the same time exemplifying the role of the educational struggle figure Ki Hajar Dewantara.
"The progress of education in the context of educating the nation's life is important in implementing the independent learning curriculum," said the alumnus of the Master of Human Resource Development (PSDM) Airlangga University (Unair).
The Principal of the Gita Kirti Foundation (GIKI) Surabaya Ida Christiana conveyed her positive view of the independent learning curriculum, especially for the implementation of driving schools so that it can be sustainable.
"There is no longer rigidity for teachers in educating their children, and creativity emerges from students. It builds when we carry out learning," he said.
According to him, in the past it was according to the standard, where teaching had to be in accordance with the educational units that were made, but currently it is more flexible in meeting children's needs.
"So the teacher can accommodate what the students want," said the Headmaster of SMP 17 August 1945, Wiwiek added.
Meanwhile, a student from SMPN 1 Surabaya Raka said the independent learning curriculum supports their activities through various programs.
"So it's not only focused inside the class, but also outside the class," said the class VII student of SMPN 1 Surabaya.
In line with her peer, Quinsa, a student at SMPN 19 Surabaya, also shared the same opinion regarding the independent learning curriculum.
"We are focused on the areas of interest and talent," he said.
The Mayor of Surabaya, Eri Cahyadi, when commemorating the National Education Day at the Surabaya City Hall, Tuesday (2/5), said that all students and teachers in Surabaya have implemented Freedom of Learning. For this reason, he also hopes that they can continue to be creative and innovate.
"So that later great children will emerge, children who have principles in the city of Surabaya who will become leaders in the city of Surabaya. Because I always say the children of Surabaya are great," he said.
Great Surabaya Children in the sense that what Cak Eri meant was that they had a humane attitude and helped each other. Then, they can work effectively and efficiently.
"There weren't many activities, there wasn't much talk, but the output and outcome results were achieved," said Cak Eri.
Also read: Observer: Hardiknas momentum to strengthen character education
Also read: Governor Khofifah pinned Satyalancana Karya Satya to 206 teachers
Also read: The chairman of the DPR requests that the appointment of honorary teachers be optimized

Reporter: Abdul Hakim
Editor: Nurul Hayat
COPYRIGHT © BETWEEN 2023
source: www.antaranews.com