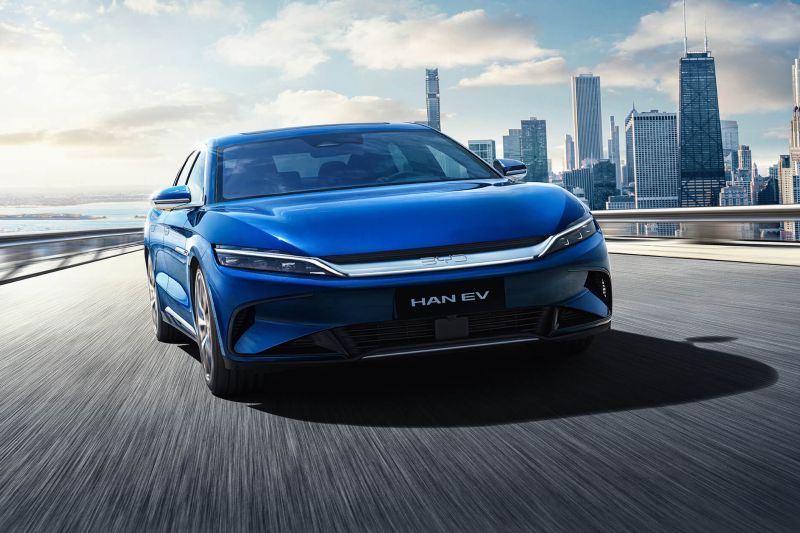 Jakarta (Rifyu.com) – An automotive company from China, BYD has launched two types of new sedans with hybrid drivetrain namely Han DM-i and Han DM-p.
Quoted from the Carnewschina page on Thursday (18/5), BYD Han DM-i was launched as the 'Champion Edition', similar to the recently launched BYD Seal, BYD Han EV and BYD Tang.
Also read: Japanese car manufacturers are experiencing a sales crisis in China
The exterior and interior styling has not changed, but has received a new body color called Glacier Blue.
The dimensions have not changed either, namely 4975/1910/1495mm with a wheelbase of 2920mm.
Inside, the BYD Han DM-i has a large 15.6-inch rotatable display (12.8-inch screens on low-end cars).
Other features include a retractable gear selector, a large LCD instrument panel and a flatbed two-spoke steering wheel.
The Han DM-i Champion Edition is equipped with an NFC lock function that is compatible with iOS and Android based mobile phones.
Also read: BYD beats Volkswagen as the best-selling car brand in China
It also has a W-HUD display that shows speed, vehicle information, navigation info and more.
The Han DM-i has an FSD suspension system that automatically adjusts the damping force.
Additionally, the Han DM-i Champion Edition's suspension arms and steering knuckle are made of aluminum.
The Han DM-i has a 1.5-liter turbocharged ICE under the hood that produces 139 hp, paired with an electric motor on the front axle for 197 hp.
This powertrain helps the Han DM-i accelerate from 0 to 100 km/h in just 7.9 seconds.
For batteries, there are two choices of 18.3 kWh LFP batteries for an electric range of 121 km (NEDC) and a 30.7 kWh LFP battery for an electric range of 200 km.
As for the mixed mileage, it reaches 1260 km with a larger battery.
The price range for the Han DM-i with a smaller battery is RMB 189,800 – 219,800, or from IDR 403 million to IDR 467 million.
There is also an option to upgrade to a larger battery, with a price range of 239,800 – 249,800 RMB or from IDR 508 million to IDR 529 million.
Meanwhile, the Han DM-p Ares Edition remains fairly similar to the DM-i version in terms of appearance and style, but has one distinguishing feature, namely the black exterior color.
According to BYD, they chose BASF's third generation black paint, known as 'the blackest black paint'.
Apart from that, BYD blacked out all the exterior trim details such as the window frames, wheels, logo and more except for the brake calipers which are yellow.
The interior of the Han DM-p Ares Edition is also black with subtle orange stitching and yellow seat belts. The Han DM-p also gets sporty seats with integrated headrests.
The vehicle is equipped with the DiSus-C suspension system which helps adjust the suspension to be sportier or softer, depending on the driver's needs.
The Han DM-p Ares Edition powertrain consists of a 1.5-liter 139 hp ICE and two electric motors with a combined power of 490hp (218 + 272). The system's peak power output is 579 hp, while its peak torque is 822 Nm.
This impressive figure allows the Han DM-p Ares Edition to accelerate from 0 to 100 km/h in just 3.7 seconds.
For the battery is an LFP with a capacity of 36 kWh, for 200 km of full electricity and 1,120 km of mixed range.
The price for the Han DM-p Ares Edition reaches RMB 289,800 or around IDR 614 million.
Read also: BYD: autonomous features impossible to implement
Also read: BYD will build a Rp.4.3 trillion battery component factory in Chile
Also read: BYD launches the BYD e2 2023 electric car, priced at IDR 224 million
Preacher: Adimas Raditya Fahky P
Editor: Ida Nurcahyani
Copyright © Rifyu.com 2023
source: otomotif.antaranews.com