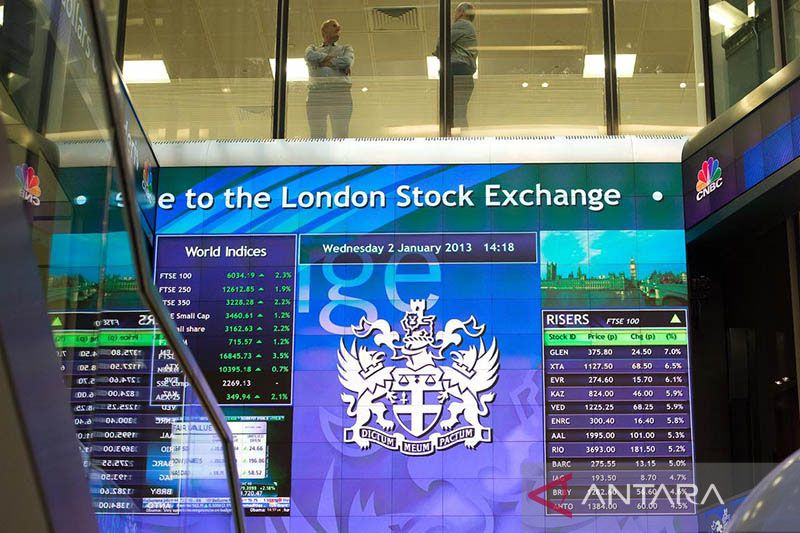 London (Rifyu.com) – British stocks ended lower on Wednesday, extending losses for the second day in a row, with the London Stock Exchange's benchmark FTSE 100 index shedding 0.36 percent, or 27 .85 points, settling at 7,723.23 points.
The FTSE 100 Index decreased 0.24 percent or 26.62 points to 7,751.08 points on Tuesday (16/5/2023), after lifting 0.30 percent or 23.08 points to 7,777.70 points on Monday (15/5 /2023), and strengthened 0.31 percent or 24.04 points to 7,754.62 points on Friday (12/5/2023).
Also read: British stocks opened lower, the FTSE 100 index was dragged down by LSEG and Experian
Evraz PLC, a British multinational steel manufacturing and mining company partially owned by the Russian oligarchy, posted the heaviest losses (top loser) among the leading stocks or blue chipswith its share price tumbling 12.59 percent.
Followed by the shares of one of the largest property development and investment companies in the United Kingdom, British Land Company PLC, which fell 5.66 percent; and British specialty chemicals industry company based in Snaith, England, Croda International PLC fell 5.06 percent.
Also read: British stocks ended negative, the FTSE 100 index decreased 0.24 percent
Meanwhile, Melrose Industries PKC, a British manufacturing company that specializes in buying, investing and divesting engineering companies jumped 4.41 percent, the top earner. (top gainer) of the leading stocks.
Followed by shares of the British-Russian precious metal mining company Polymetal International PLC which rose 3.49 percent; and British multinational aerospace and defense industry company Rolls-Royce Holdings PLC gained 3.17 percent.
Also read: Stocks in the UK ended positive, the FTSE 100 index rose 0.30 percent
Also read: UK stocks start trading this week on a strong footing
Translator: Apep Suhendar
Editor: Bambang Sutopo Hadi
COPYRIGHT © BETWEEN 2023
source: www.antaranews.com