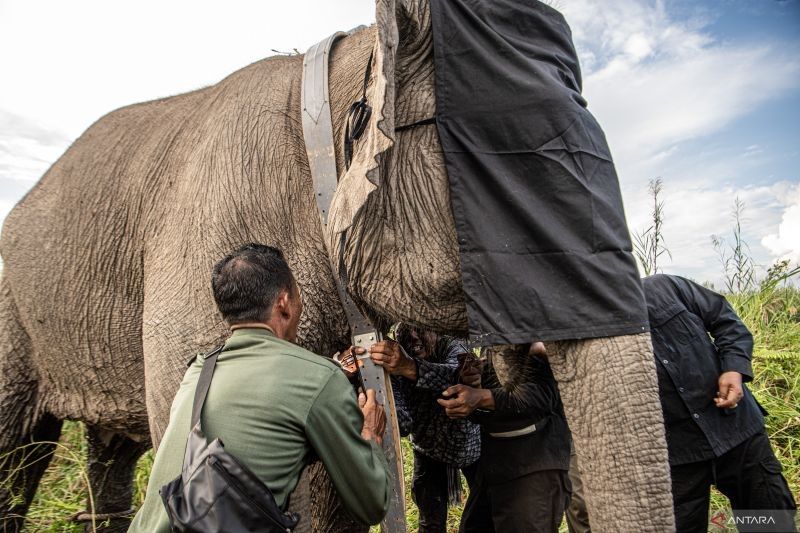 OKI, South Sumatra (Rifyu.com) – The South Sumatra Natural Resources Conservation Agency (BKSDA) has again installed a GPS collar unit for a group of Sumatran elephants (elephas maximus sumatranus) in the Sugihan-Simpang Heran habitat area, Ogan Komering Ilir Regency, South Sumatra Province.
Head of Conservation Section Region III of the South Sumatra KSDA Center Sugito at OKI South Sumatra, Monday, stated that the activity aims to understand elephant movement patterns through the use of Inmarsat satellite technology at intervals to realize the principle of coexistence between human activities and wild elephant life in the Sugihan-Simpang elephant habitat. Amazed.
"This activity strengthens efforts to mitigate negative interactions between Sumatran elephants and humans, the location is the largest Sumatran elephant population pocket in South Sumatra Province. The installation of the device was carried out on Sunday (14/5) afternoon," said Sugito.
The installation was carried out on female elephants aged around 25 years weighing 2,782 kilograms, which were in a group of 13 tails. Previously, exactly one year ago, May 13 2022, GPS collars were installed in two groups, namely the Meilani group (totaling 34 individuals), and the Meissi group (totaling 14 individuals).
The activity was carried out for two days, 13-14 May 2023, located in the work area of ​​PT Bumi Andalas Permai's Forest Utilization Business Permit (PBPH) – Industrial Plantation Forest (HTI), Ogan Komering Ilir Regency, South Sumatra Province.
The team involved came from various parties, namely PT OKI Pulp & Paper Mills, a business unit of APP Sinar Mas, and PT Bumi Andalas Permai (BAP), APP Sinar Mas supply partner, Association of Animal Forest Networks (PJHS), as well as Veterinarians and Riau BBKSDA Technical Team.
Previously, on Friday (12/5) the team conducted a consolidated briefing to formulate plans and strategies, divide tasks, and re-ensure the completeness and feasibility of equipment, and continued on Saturday (13/5) conducting a survey and ascertaining the target elephants, which then on Sunday (14/5) the GPS collar was successfully installed.
Meanwhile, Jasmine NP Doloksaribu, Head of Landscape Conservation APP Sinar Mas, who also oversees the GPS collar installation process in the field, stated that APP Sinar Mas is committed to supporting the Ministry of Environment and Forestry in the human-elephant co-existence program.
It is hoped that the installation of the GPS Collar will assist in understanding the principle of sharing living space between humans and elephants, as well as formulating an effective conservation action strategy in accordance with the Circular of the Director General of PHL Number SE.7/PHL/PUPH/HPL.1/10/2022 and Letter Circular of the Director General of KSDAE Number SE.7/KSDAE/KKH/KSA.2/10/2021. This is in line with the 2030 Sustainability Roadmap Vision (SRV) and APP Sinar Mas' Forest Conservation Policy.
Head of the South Sumatra BKSDA Ujang Wisnu Barata explained that the Sugihan-Simpang Heran habitat pocket has an area of ​​approximately 632 thousand hectares, in which the parties agreed to delineate the Wild Elephant Corridor on June 23 2022, with an area of ​​approximately 232 thousand hectares, with a total the corridor area is in the Production Forest area of ​​the APP Sinar Mas concession area.
The corridor is delineated based on traces of presence and the results of regular monitoring, which then becomes the locus of habitat and population management through various integrated activities, namely enrichment of elephant feed, manufacture of artificial saltlicks, regulation of plant commodities, construction of physical/vegetation barriers and monitoring of populations, in order to better guarantee provision of sufficient living space and habitat to support the life of wild elephants so that the negative interactions of wild elephants in community areas can be controlled.
Also read: The South Sumatra BKSDA rehabilitates a baby sun bear
Also read: South Sumatra BKSDA: Residents' conflict with bears was triggered by the durian harvest season
Also read: The South Sumatra BKSDA restores the Dangku Wildlife Sanctuary area

Reporter: Sharif Abdullah
Editor: Zita Meirina
COPYRIGHT © BETWEEN 2023
source: www.antaranews.com