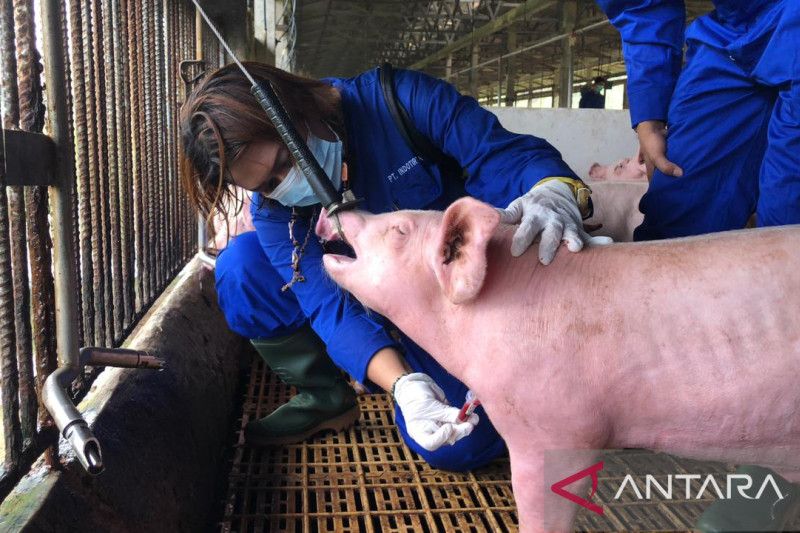 The death of a sizable pig on Bulan Island, with clinical symptoms leading to Classical Swine Fever (CSF)/Hog Cholera.
Jakarta (Rifyu.com) – The Agricultural Quarantine Agency (Barantan) stated that a pig from Bulan Island, Batam, Riau Islands, which is usually exported to Singapore, has tested positive. African Swine Fever (ASF) or African swine flu.
"The results of follow-up testing, both by the BBUSKP Laboratory and the Bukittinggi BVet were positive for ASF and negative for Classical Swine Fever (CSF), so it is necessary to carry out sequencing to find out the viral genome related to the similarity of virus origin," said the Head of the Center for Animal Quarantine and Barantan Animal Biosafety, Wisnu Wasisa Putra, in Jakarta, Saturday.
Wisnu said Barantan and the Directorate of Animal Health, Directorate General of Livestock and Animal Health, had been actively coordinating with Singaporeans, namely the Singapore Food Agency and NS Park.
The results of the joint investigation between Indonesia and Singapore concluded that there had been a sizable death of pigs on Bulan Island, but with clinical symptoms leading to Classical Swine Fever (CSF)/Hog Cholera.
Furthermore, the Tanjung Pinang Agricultural Quarantine took anticipatory steps in the form of ASF testing of pigs to be trafficked and tightened animal quarantine measures.
"In addition, monitoring the importation of feed and feed ingredients that enter Bulan Island is a precautionary measure for the possibility of ASF entering this island," Wisnu said.
As an effort to reopen swine exports to Singapore, the Ministry of Agriculture has proposed an ASF-free sub-compartment system on Pulau Bulan which has been approved by Singapore. So that in the future Indonesia can again export pigs to Singapore.
Head of Barantan, Bambang, said that this effort was a strategic step, considering that Bulan Island is the largest pig farm in Indonesia and contributes 15 percent of the total need for imported pigs in Singapore.
"The Ministry of Agriculture will evaluate and investigate all aspects of risk management. Together with the Directorate General of Livestock and Animal Health, we are moving quickly to field a team," said Bambang.

Also read: The Batam City Government controls the health of pigs on Bulan Island
Also read: Ministry of Trade explores Singapore's findings regarding pigs with viruses from Batam
Reporter: Kuntum Khaira Riswan
Editor: Budisantoso Budiman
COPYRIGHT © BETWEEN 2023
source: www.antaranews.com