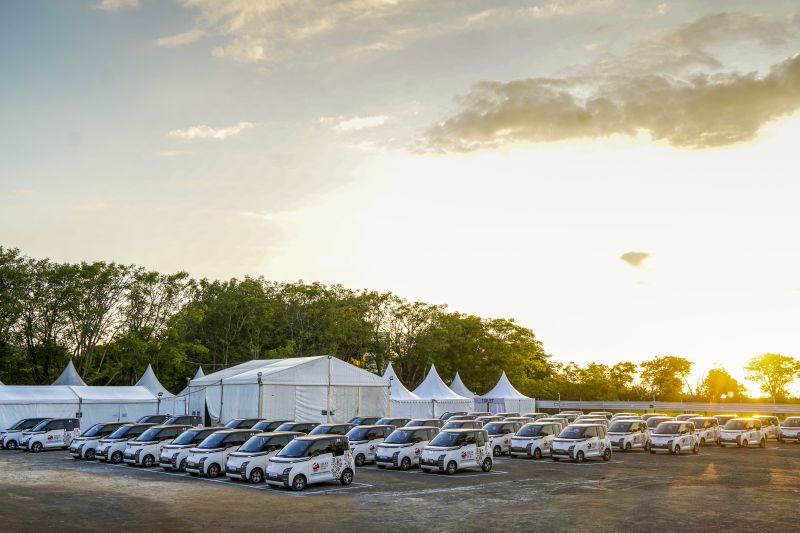 Jakarta (Rifyu.com) – Wuling Motors (wuling) once again supports government activities at the 2023 ASEAN Summit (Summit) on 9-11 May 2023 which will take place in Labuan Bajo, East Nusa Tenggara, by fielding 50 Wuling Air ev units that have arrived at the event location.
"As many as 50 Wuling Air ev units have arrived in Labuan Bajo and are ready to provide an environmentally friendly driving experience for all 2023 ASEAN Summit delegates during this international event," said Brand and Marketing Director Wuling Motors Dian Asmahani in a statement received in Jakarta, Wednesday (5/3).
Also read: Wuling Air EV with NEV is in the spotlight at the 2023 Canton Fair
Wuling's support for this activity is intended to support environmentally friendly mobility in the event. Upon arrival at Pelindo 3's Wae Kelambu Multipurpose Port, all Air Ev were then deployed to the Wuling Labuan Bajo Pool for the final preparation stage before this event took place next week.
Wuling Air Ev's trip to Labuan Bajo, using the sea route from Jakarta. The journey took several days and only arrived at Pelindo 3's Wae Kelambu Multipurpose Port on May 1, 2023 in the morning.
The factory-made electric car located in Cikarang, West Java, was unloaded in groups and delivered to the Wuling Labuan Bajo Pool. All units imported to Labuan Bajo are Air ev Long Range variants with Pristine White body color.
This Wuling electric car is capable of traveling up to 300 km in one full battery charge so that it is suitable for meeting the mobility needs of the delegates later.
The electric vehicle which will be used to meet the mobility needs of the delegates is equipped with various advanced features such as the Wuling Indonesia Command (Wind), a feature that makes it easier for drivers to drive by giving voice commands to the car in Indonesian.
In addition, this car also has an Internet of Vehicle (IoV) feature which makes it easy for users to control their vehicle only through a smartphone with the help of the Wuling Remote Control App.
Also read: Wuling Bingo sold 16,383 units in April 2023
Also read: Ministry of State Secretariat appreciates automotive companies supporting the 2023 ASEAN Summit
Also read: How Wuling develops the electric vehicle ecosystem in Indonesia
Preacher: Chairul Rohman
Editor: Maria Rosari Dwi Putri
Copyright © Rifyu.com 2023
source: otomotif.antaranews.com