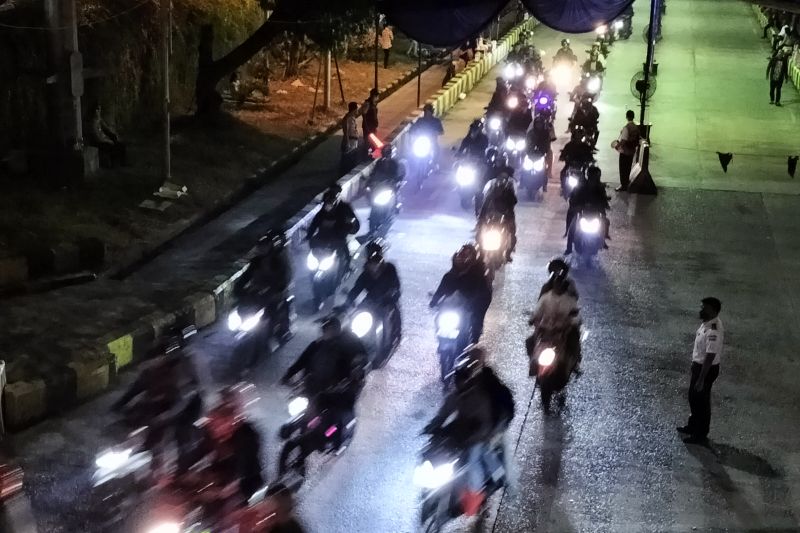 South Lampung (Rifyu.com) – Thousands of homecoming vehicles continue to arrive and crowd the parking lot at Bakauheni Port, South Lampung Regency, Lampung Province, on D+7 evening, Eid 2023.
Two-wheeled riders were observed to continue arriving and thronging the Bakauheni Port area from 22.00 WIB to 23.30 WIB.
The thousands of vehicles came from various areas in the provinces of Lampung and Sumatra and wanted to return to a number of places on the island of Java.
Irul (34), a resident of Way Kanan, for example, said he deliberately traveled back and forth to Jakarta at night to avoid traffic jams.
"On purpose anyway let's leave at night No hot and traffic jams at the port," said Irul in Bakauheni.
The port area is not only filled with motorbikes but also the cars of travelers. A number of buses also continued to arrive until they filled the parking pockets of Bakauheni Port.
A number of police, military and ASDP officers were seen busy managing traffic flow at the port.
Based on 12-hour data from the Bakauheni Port Command Post, a total of 10,025 motorbikes; 8,440 cars and 232 buses that have entered Bakauheni Port.
Previously, General Manager of PT ASDP Bakauheni branch, Rudi Sunarko, said the peak of the second wave of return flows was expected to fall on Sunday for the next three days.
Rudi Sunarko appealed to ferry service users to be able to buy Ferizy tickets in advance.
"So we urge travelers from Java to Sumatra and vice versa who will use ASDP crossing services to buy tickets in advance," he said.
Also read: Passenger activity at Bakauheni Port is bustling smoothly on H+7 at night
Also read: Police secure backflow in Bakauheni which is focused on two locations
Reporter: Riadi Gunawan
Editor: Rahmad Nasution
COPYRIGHT © BETWEEN 2023
source: www.antaranews.com