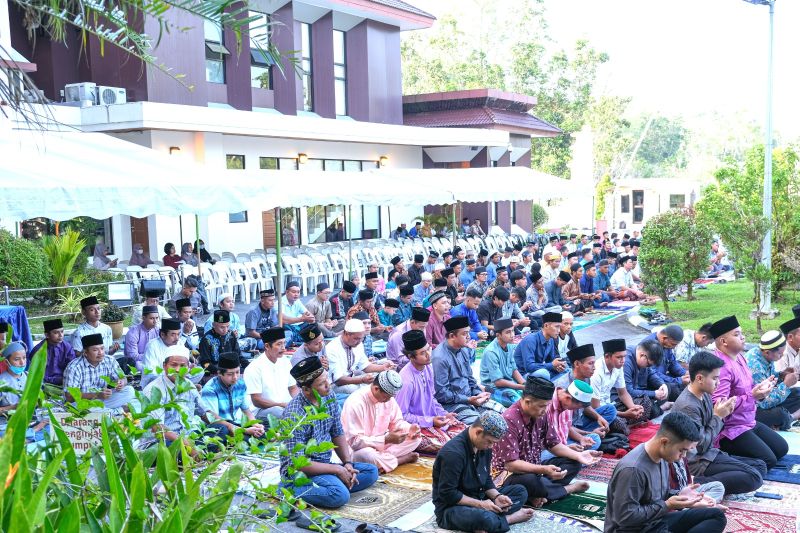 Jakarta (Rifyu.com) – More than 1,500 Indonesian citizens attended the Eid al-Fitr prayer in the courtyard of the Indonesian Embassy (KBRI) in Bandar Seri Begawan on Friday (21/4).
This year, the Eid prayer this time is still according to health protocols such as wearing masks and bringing their own prayer mats, but not as strict as that implemented by the government of Brunei Darussalam last year.
"This year there are no more restrictions on Eid prayers for children under 11 years of age and a limit on the number of worshipers from the Ministry of Health of Brunei Darussalam," said the Indonesian Embassy in Bandar Seri Begawan in a statement received in Jakarta, Saturday.
The Eid al-Fitr program at the Indonesian Embassy began with a joint takbir led by ustad Rustam Harahap, with ustad Minfadhlillah Hamid acting as the imam and Prof. Madya Dr. Abdurrahman Raden Aji Haqqi, an Indonesian lecturer who teaches at the Sultan Sharif Ali Islamic University (UNISSA) Brunei Darussalam, as preacher.
In his sermon, Ustad Haqqi invited the congregation to celebrate the Victory Day by remaining in kindness and behavior.
Meanwhile, the Chargé d'Affaires Ad Interim (KUAI) of the Indonesian Embassy in Bandar Seri Begwan Irwan Iding invited Indonesian citizens in Brunei to comply with applicable regulations and maintain unity and integrity.
Also read: Celebrating Eid Al-Fitr in Laos
In particular, Irwan also invited all Indonesian citizens to continue to adopt a healthy lifestyle and maintain cleanliness.
"The corona virus outbreak has not completely ended, and for that, we must all remain careful and comply with health protocols wherever we are," said Irwan.
According to the Indonesian Embassy, ​​the Indonesian people in Brunei are excited to welcome the Eid Al-Fitr 1444 H Prayer, which is the first year they have been able to carry out the Eid prayer without restrictions due to the COVID-19 pandemic from the Government of Brunei Darussalam.
Previously, in 2021-2022, Eid prayers in Brunei were still being held with a number of restrictions, even in 2020 the Indonesian Embassy in Bandar Seri Begawan did not hold Eid prayers in accordance with the recommendations of the government of Brunei Darussalam.
1 Shawwal 1444 H in Brunei falls on May 22 2023 according to the results of the rukyah which was ratified by Chief Judge Syarie, Sharia Court, State Judiciary Office, Royal Mufti, Ministry of Religion and Ministry of Development of Brunei, after observing new moon at least five locations in the country's territory.
This year the people of Brunei celebrate Eid al-Fitr 1444 H on 22 May 2023, together with citizens in Indonesia and a number of Muslim countries in the world.
Also read: Muslims in Malaysia celebrate Eid al-Fitr on Saturday
Also read: Tolerance in Eid al-Fitr celebrations in Singapore
Reporter: Asri Mayang Sari
Editor: Yuni Arisandy Sinaga
COPYRIGHT © BETWEEN 2023
source: www.antaranews.com