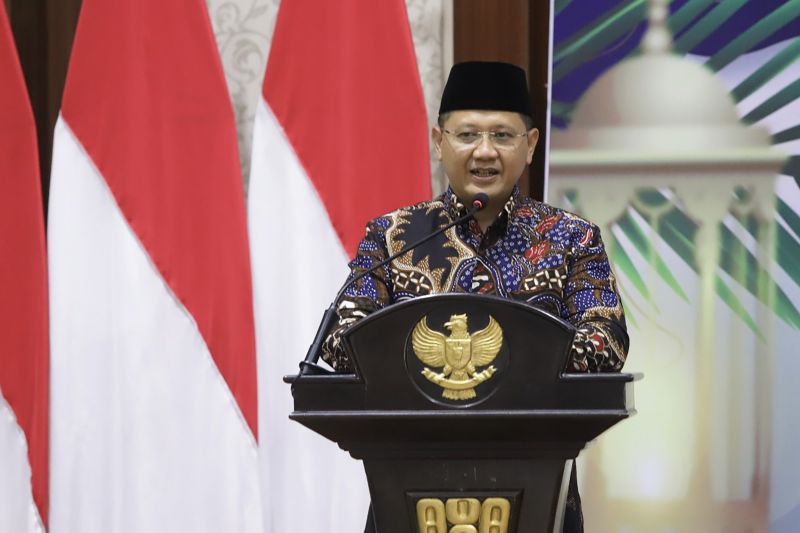 "Everyone is ready to return to their activities to complete unfinished tasks, such as reducing poverty rates, stunting rates and improving the community's economy,"
Batu City, East Java (Rifyu.com) – The Batu City Government in East Java Province is trying to complete a number of priority programs which are the main task of improving the welfare of the people in the local area.
Acting Mayor of Batu City, Aries Agung Paewai in a statement received in Batu City, Friday said that after the Eid Al-Fitr 1444 Hijriyah holiday, all village officials were able to return to their activities to complete priority programs.
"Everyone is getting ready to return to their activities to complete unfinished tasks, such as reducing the poverty rate, stunting rate and improving the people's economy," Aries said.
On that occasion, Aries together with Forkopimda Kota Batu held a halal bihalal with the village head, lurah, Village Consultative Body (BPD) and Village Community Empowerment Institution (LPMK) in the area.
Aries added that village and sub-district governments have a very important role, especially as the spearhead of services to the community, including in efforts to complete a number of these priority programs.
"This is a new step for good governance, especially the role of village and sub-district administrations as the spearhead of service to the community. Let's complete our tasks," he said.
In addition, Aries also asked village governments to be compact in developing rural areas by optimizing three leading sectors, namely tourism, agriculture and Micro, Small and Medium Enterprises (MSMEs).
He considered that if each village moved on its own it would not be able to achieve the main objectives of the programs initiated. So, good collaborative steps are needed, including with the Batu City Regional Apparatus Organization (OPD).
"If I stand alone, I'm sure I won't be able to. The way to do this is by collaborating well. We are working on the potential that we have together, I and OPD will not remain silent, we will support development in villages and sub-districts together," he said.
Broadly speaking, during the celebration of Eid Al-Fitr 1444 Hijriyah and the 2023 Eid holiday in Batu Tourism City, it went smoothly. This cannot be separated from the efforts of the government, including village officials, to take a number of anticipatory steps.
"I and Forkopimda saw firsthand how everyone is working hard to maintain public order and security. Ramadan and Eid al-Fitr activities are going smoothly and Batu City is conducive and safe," he said.
During the 2023 Eid holiday, the Batu City area has become one of the favorite tourist destinations for the community, which is reflected in the increase in the flow of vehicles to the area in the period April 19-25 2023.
Based on data from the Intelligent Traffic System (ITS), there were 699,154 vehicles entering and leaving the Batu City area, with the peak density occurring on April 24 2023 with the number of vehicles reaching 123,606 units.
The flow of vehicles heading to the area has reportedly increased by up to 29.36 percent compared to regular holidays. The high number of tourist arrivals opens up potential revenue of up to IDR 3.2 billion from hotel taxes, restaurant taxes, entertainment taxes, parking taxes and parking fees.

Also read: A number of houses were damaged by strong winds in Batu city
Also read: Hundreds of thousands of registered vehicles go to Batu City during the Eid holiday
Also read: Hotel occupancy in Batu City reaches 80 percent during the Eid holiday
Reporter: Vicki Febrianto
Editor: Muhammad Yusuf
COPYRIGHT © BETWEEN 2023
source: www.antaranews.com