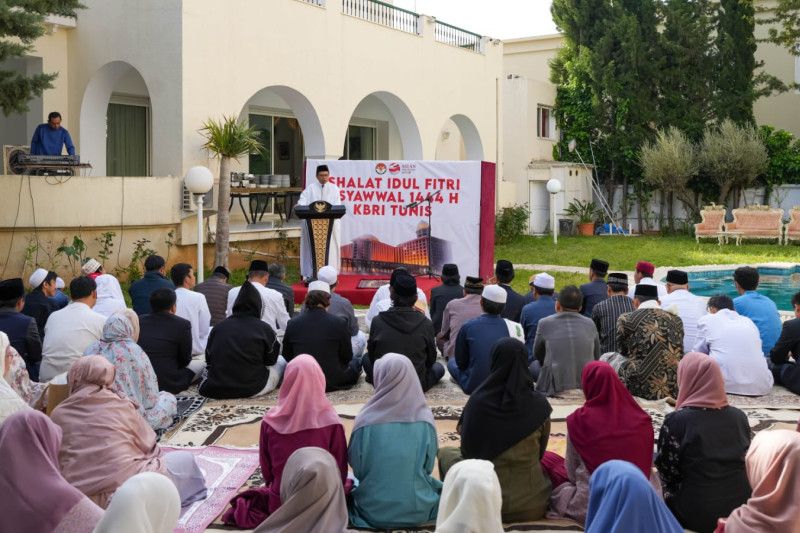 Jakarta (Rifyu.com) – The Indonesian Embassy (KBRI) in Tunis held Eid al-Fitr and Halal Bihalal prayers with Indonesian citizens (WNI) in Tunisia on Saturday (22/4).
At the halal bihalal event, Indonesian Ambassador to Tunisia Zuhairi Misrawi said that Eid al-Fitr is a moment of togetherness and happiness, according to a statement from the Indonesian Embassy in Tunis received on Sunday.
"On this day, we all carry out Eid prayers to start a new episode in our future life with a spirit of togetherness and happiness," said Ambassador Zuhairi.
"On this happy day, echoes of takbir resound as an expression of our acknowledgment and commitment that in essence we are God's servants who must always glorify God," he said.
According to Zuhairi, the Indonesian Embassy in Tunis in carrying out its state diplomacy tasks essentially only wants to uphold the majesty of Allah by providing the best service and dedication to the nation, people, country and the world.
Meanwhile, Muhammad Shaleh Amien, who served as preacher during the Eid al-Fitr prayers in congregation at the Indonesian Embassy in Tunis, stressed the importance of fasting during Ramadan to be used as social capital to welcome Eid al-Fitr and life in the days to come.
"Fasting teaches us to obey Allah and forge patience, so that we become perfect human beings and ready to welcome Eid al-Fitr with joy and full of joy. Fasting will make people who are ready physically and mentally to spread kindness to others," said Shaleh, who is a doctoral candidate student at Zaitunah University.
The Halal Bihalal activity for Indonesian citizens in Tunisia was filled with hospitality while eating Indonesian specialties, such as opor, rendang, rice cake, and other cakes.
Also read: Thousands of Muslims celebrate Eid al-Fitr in Manila
Also read: Tolerance in Eid al-Fitr celebrations in Singapore
Also read: The Indonesian Embassy in Bangkok serves Eid special snacks to treat homesickness
Reporter: Yuni Arisandy Sinaga
Editor: M Razi Rahman
COPYRIGHT © BETWEEN 2023
source: www.antaranews.com