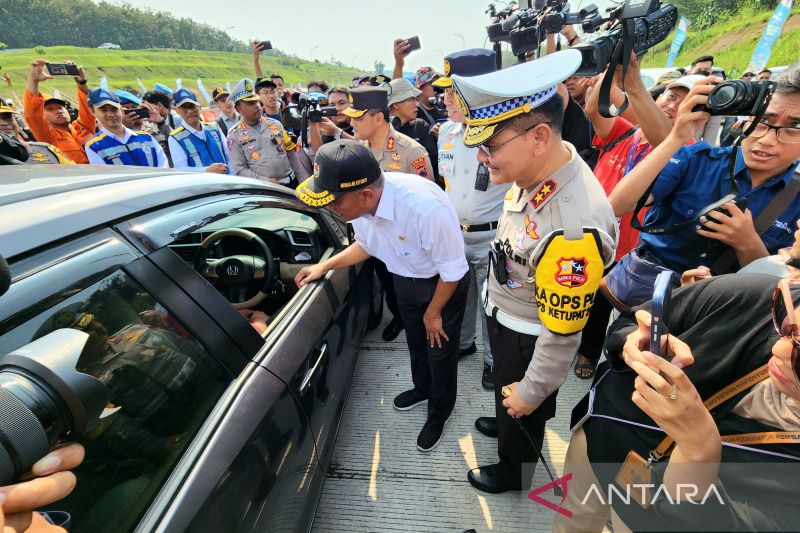 Semarang (Rifyu.com) – The Coordinating Minister for Human Development and Culture (PMK) Muhadjir Effendy opened the implementation of the one-way lane from the Kalikangkung Toll Gate in Semarang, Central Java, to the Cikampek Toll Gate, Monday.
Coordinating Minister for PMK Muhadjir Effendy together with Kakorlantas Polri Inspector General Pol Firman Shantyabudi and Central Java Regional Police Chief Inspector General Ahmad Luthfi opened the one-way route at 14.45 WIB.
"There is a slight delay because the flow of homecoming from the west is still quite heavy," said Muhadjir.
Also read: Homecoming travelers choose to wait for the opening of "one way" at the Kalikangkung Toll Gate
He asked travelers to prepare fuel and electronic money cards for transactions at toll booths, because the journey from Kalikangkung to Cikampek is quite long.
Officers from the police, he continued, will provide escort on the A line from east to west so that it is orderly and safe until the destination.
"No one is allowed to precede the tour. The travelers will be escorted to Cikampek," he said.
He also appealed to travelers to rest at rest areas but not for too long.
Also read: Kalikangkung Toll Gate is sterilized ahead of the implementation of "one way"
"If you are very tired, you should first go to the nearest toll exit, then rest, then enter the toll road again," he said.
Kakorlantas Polri Inspector General Pol Firman Shantyabudi appealed to travelers who have entered route B not to switch to route A which is looser.
"This is for mutual smoothness," he said.
Previously, the peak of the first wave backflow was expected to occur on April 24 and 25 2023.
Also read: Traffic from Jakarta to Kalikangkung is still congested ahead of "one way"
Meanwhile, the peak of the second wave of reverse flow is expected from April 30 to May 1 2023.


Reporter: Immanuel Citra Senjaya
Editor: Bambang Sutopo Hadi
COPYRIGHT © BETWEEN 2023
source: www.antaranews.com