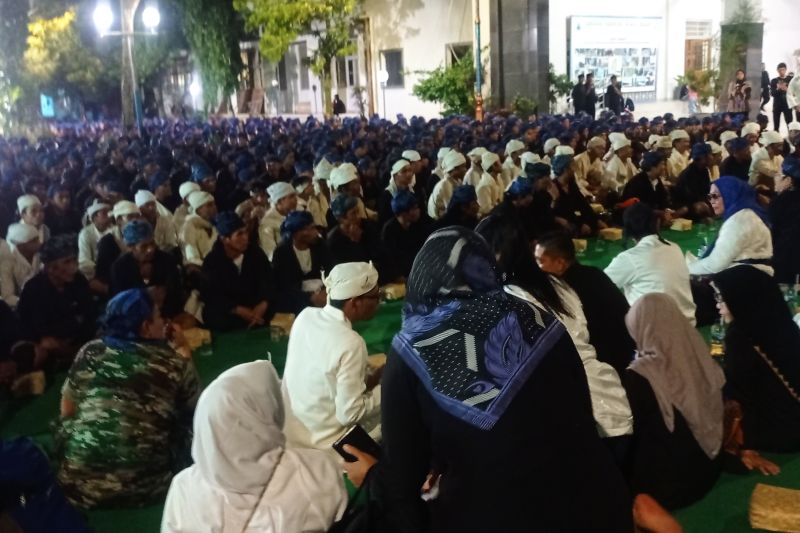 Lebak (Rifyu.com) –
The Bedouin people who live in an area of ​​customary customary land rights in the interior of Lebak Regency, Banten Province are free to use their political rights in the 2024 general election (Pemilu).
"We hope that all indigenous peoples can participate in exercising their political rights," said the Bedouin traditional leader who is also the Head of Kanekes Village, Leuwidamar District, Lebak Regency Jaro Saija during the Seba celebration at the Lebak Regency Government Hall, Friday (28/4) evening.
The Bedouins are free to use their political rights in the 2024 elections, because there is no prohibition from traditional institutions.
Bedouins are allowed to take part in the democratic party, because they have the responsibility to choose quality and trustworthy leaders.
Because of this, the Bedouin community is quite relieved in the 2024 political year, because there is no customary prohibition on electing pairs of presidential/vice-presidential candidates, candidates for members of the DPR, provincial DPRD, regency/city, and candidates for DPD members.
"We hope that the 2024 election will run peacefully without causing divisions," he explained.
According to him, even though the Bedouins in the Kendeng Mountains area are still strong against rules from traditional institutions.
However, they have an obligation to make elections successful so that they run smoothly and elected leaders based on the conscience of the people.
Because, said Jaro Saidi, this democratic party is part of love for Indonesia.
"We invite Bedouin residents who are included in the DPT to come to the TPS. As for the choice, it depends on each other's conscience," said Jaro Saija.
According to Saija, the Bedouin community has long ago held elections, but the elections were represented by traditional representatives sitting in the MPR.
In fact, he said, traditional leaders forbade Bedouins from taking part in elections because they were afraid of causing divisions, one of the reasons being that if a candidate is not elected, it will certainly cause heartache.
Thus, the Bedouins agree to participate in the winning or losing candidate, said Saija.
He said that his party hopes that the KPU and the Lebak Regency government will do more to socialize the 2024 election, because there is less time left for a year.
So far, the Bedouin community has participated in the election with the condition that there is no campaign as well as party attributes in the area of ​​Bedouin customary land rights.
"We support peaceful and conducive elections because it makes it mandatory to choose a candidate for the leader of this nation," he said.
Meanwhile, Lebak Regency KPU member, Encep Supriyatna, said the Bedouin community would participate in the 2024 democratic party.
"We will socialize the election in the Bedouin area so that they understand and vote correctly," he said.
Preacher: Mansyur Suryana
Editor: Nurul Aulia Badar
COPYRIGHT © BETWEEN 2023
source: www.antaranews.com