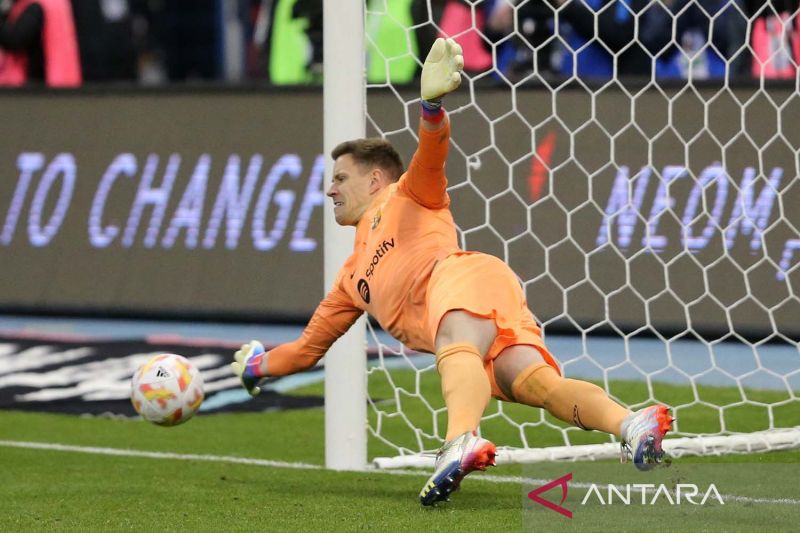 Jakarta (Rifyu.com) – Goalkeeper Marc-Andre Ter Stegen recorded Barcelona's lowest clean sheet or clean sheet record in LaLiga or Spanish League history with a record of 23 clean sheets.
This record was obtained by Ter Stegen when Barcelona won 1-0 over the visitors Atletico Madrid in the LaLiga continuation match at the Spotify Camp Nou stadium, Sunday (23/4).
Ter Stegen's clean sheet record equaled the record set by former Barcelona goalkeeper Claudio Bravo in the 2014/2015 season.
The goalkeeper for the German national team has conceded just seven of the 30 matches he has played in LaLiga this season. Ter Stegen conceded against teams Real Sociedad, Real Madrid (in two matches), Osasuna, RCD Espanyol, Real Betis and Almeria.
With eight matches remaining in LaLiga, Ter Stegen has the opportunity to overtake Jan Oblak's record as the goalkeeper with the most clean sheets in LaLiga with 24 clean sheets in the 2015/2016 season.
Apart from that, Ter Stegen has a big chance to overtake Petr Cech's record, which until now has become the goalkeeper with the most clean sheets in one season in Europe's top leagues with 25 clean sheets.
If Ter Stegen is consistent over the remaining eight matches, then his chances of becoming the goalkeeper who conceded the least goals in LaLiga could be achieved. The record for the fewest goals conceded during a season in LaLiga is held by Deportivo la Coruna legend Francisco Liano in the 1993/1994 season and Jan Oblak 2015/2016 with a record of 18 conceded in 38 matches. Meanwhile, Ter Stegen has conceded nine goals in 30 matches.
With Ter Stegen's brilliant record in goal, Barcelona are closer to locking in the LaLiga title with 76 points, 11 ahead of their eternal rivals Real Madrid who are in second place.
Preacher: Fajar Satriyo
Editor: Guido Merung
COPYRIGHT © BETWEEN 2023
source: www.antaranews.com