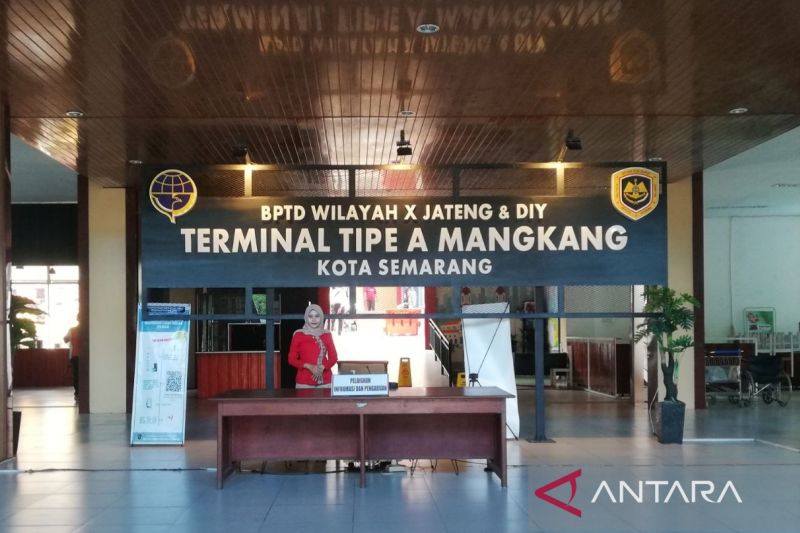 The arrival of homecomers from April 14 until now has reached 6,100 people, while there have been 500 buses.
Semarang (Rifyu.com) – The Mangkang Type A Terminal in Semarang, Central Java, recorded the arrival of at least 6,100 travelers from various regions, especially Jakarta and Cirebon, during the 2023 Lebaran homecoming from April 14-22.
"The arrival of travelers from April 14 to now is 6,100 people, while there are 500 units of buses," said Head of Terminal Type A Mangkang Semarang Reno Adi Pribadi in Semarang, Saturday.
He admitted that this number was only passengers who were recorded as going down to the Mangkang Terminal, because there were buses that chose not to enter the terminal because they got off on the road and there was still a shadow terminal.
Also read: Generally, the flow of going home from Bandung's two bus terminals is conducive
According to him, the number of passenger arrivals included travelers who took part in the free homecoming program using buses with the final destination of Mangkang Terminal, Semarang.
"So far the arrival of passengers has been gentle. Especially now that it's Eid Al-Fitr. Buses from Transsumatra also don't appear to be coming in. Usually there will be traffic like this," he said.
He suspected that many buses chose not to enter the Mangkang Terminal and instead picked up and dropped off passengers at shadow terminals which were monitored at three points in Semarang City.
At least, said Reno, there are three shadow terminals in the city of Semarang that have resumed operations despite the previous order, namely Pasar Sukun, Terboyo, and the Krapyak-Siliwangi area.
With the presence of shadow terminals, he said the data on the number of passengers at the official terminal, including the Mangkang Terminal, could not be recorded 100 percent because the bus did not enter the official terminal.
"(Passenger arrival data, ed.) There are many leaks. Some are dropped off at shadow terminals, some may get off on the road. We can only monitor buses that enter here," he said.
Also read: Homecoming travelers arrive at the Mandala Lebak Banten Bus Terminal H-1 reaching 740 people
Apart from that, he said, the presence of shadow terminals also increases the chances of crime against travelers increasing and travelers can also be subject to ticket prices that are not in accordance with the rules.
For the return flow of Idul Fitri 2023, Reno estimates it will occur between April 28-29, and the Mangkang Terminal has made various preparations to anticipate a surge in travelers during the return flow.
At Semarang's Mangkang Terminal, a security post and health post have been prepared to provide services to travelers who need information and health care.
Reporter: Zuhdiar Laeis
Editor: Nusarina Yuliastuti
COPYRIGHT © BETWEEN 2023
source: www.antaranews.com