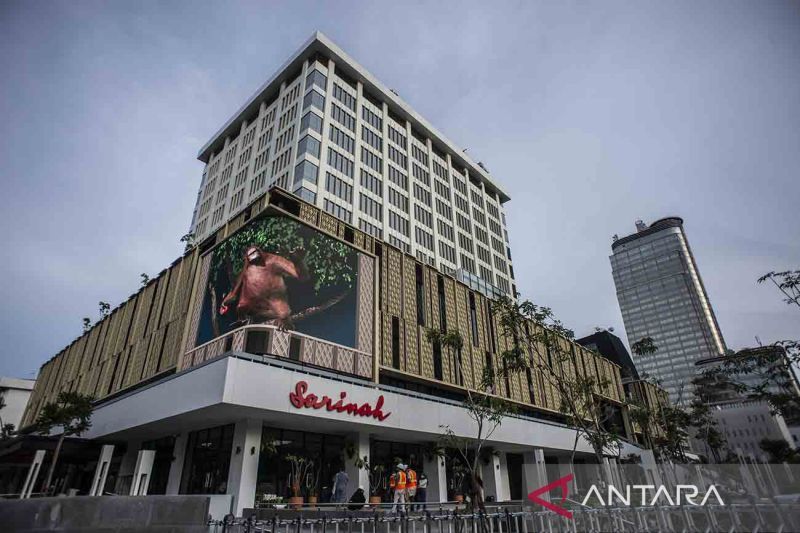 Jakarta (Rifyu.com) – PT Sarinah revealed the area of ​​department stores, food and beverage outlets or food and beverage (F&B), as well as the veranda are the areas that are favorites for visitors during Eid.
"During the month of Ramadan and Eid, the areas that are the favorite places for visitors are the department store area, especially in the modest fashion area. Apart from that, F&B outlets are also places that are used by many visitors to celebrate Eid by eating with family," said Sarinah Main Director. Fetty Kwartati when contacted in Jakarta, Monday.
Fetty also added that besides that, the Sarinah veranda area is no less a crowded area to visit and is used as a place for young people to hang out in the afternoon until evening, after a day of Eid celebrations with family to meet and mingle with friends and friends.
During the Idul Fitri holiday, Sarinah presents a number of interesting programs for visitors, such as a discount program, a Stamp program for purchases of IDR 300,000/stamp.
Then collaborate with a number of brands, such as The Executive pop up store, Kiosk Geela, Frederika x Christin Wu, Sarinah x Erigo Tour to increase sales.
Sarinah always ensures the implementation of Eid Al-Fitr 2023 at Sarinah, so that it can run safely, comfortably, in an orderly manner, and continue to implement the latest Covid-19 protocol issued by the government.
Sarinah also noted that during the first day of Eid, around 20,000 visitors came. For the second day of Eid, it is projected that it will increase to 30,000 visitors, seeing that operating hours have returned to normal, namely from 10.00-22.00 WIB for department stores, and Sarinah has also extended mall operating hours, namely from 07.00 – 00.00 WIB.
While the operational hours of the Sarinah store and mall will return to normal for April 24 2023, namely at 10.00-22.00 WIB.
Also read: Sarinah makes the Eid moment to boost sales
Also read: Shopping mall shopping in Jakarta is an alternative for Eid holidays
Also read: Sarinah offers promotions of up to 50 percent during the Eid holiday

Reporter: Aji Cakti
Editor: Biqwanto Situmorang
COPYRIGHT © BETWEEN 2023
source: www.antaranews.com