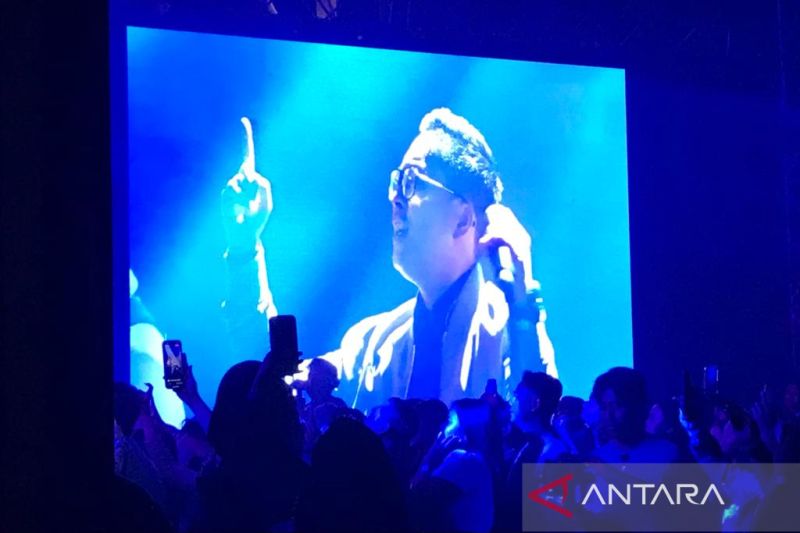 Finally, Sammy Simorangkir was able to come to Bali. This is the first time he has appeared with Kerispatih.
Badung (Rifyu.com) –
Singer Sammy Simorangkir appeared stunning and brought thousands of fans in Bali to reminisce with the Kerispatih Band in Seminyak, Badung Regency, Bali, Thursday night.
In the presence of Ja'an Bali friends, as visitors to Ja'an Restaurant Bali call it, Sammy succeeded in treating the longing of fans who had received information about the concert in early April 2023.
Sammy, who appeared with the Kerispatih Band personnel, was warmly welcomed by thousands of fans who had gathered since the afternoon. The band that won the 2005 MTV Indonesia and HAI magazine awards did not wait long to rock the stage.
The visitors and fans cheered warmly when it was Sammy Simorangkir's turn to directly perform Kerispatih's first single, Honesty of the Heart.
During this performance, Sammy also performed a number of Kerispatih songs, such as Forget Me, When My Feelings Are Your Feelings, Timeless, For Love's sake, The Same Mistakes, and For All Ages.
The other songs that were sung at that time were Remembering You and Timeless, which were successfully performed by Sammy and his friends and were sung together by the fans who were present.
In between song breaks, Sammy took time to greet the visitors who were present at Ja'an Restaurant.
"Finally, Sammy Simorangkir can come to Bali. This is the first time he has performed with Kerispatih. Are there Sami lovers here?" asked Sammy from the stage, which was greeted enthusiastically by thousands of fans.
"Thank you. Hope everyone enjoys tonight. I want to bring you all to reminisce on Kerispatih's first single," said Sammy.
Sammy immediately sang a number of Kerispatih songs and were sung together by the fans who were present. Not only that, Sammy also performed a number of songs of his own composition. Sammy also did not forget to express his happiness to be present in Bali.
"Tonight is a special night. Thank you for the support, friends. I will bring my songs too. For friends who haven't heard the song, look for it later. My new song," he said.
He also began to sing a number of songs on the album Eternal Stories, such as Eternal Stories, Too Use a Heart, Replied With Lies, Go Not Back, and Give Time.
Meanwhile, Sales and Marketing of Ja'an Restaurant Risfi Madila said that his party had deliberately invited Kerispatih with the aim of inviting his fans in Bali to reminisce about Kerispatih's songs which were hits in the early 2000s.
"If we are asked the reason why we invited Kerispatih, because from what we see it has been a phenomenal band from ancient times. So, we want to make fans nostalgic and Kerispatih himself admits that it was the first time Kerispatih collaborated with Sammy Simorangkir in Bali," he said.
Ja'an Bali as the promoter of the event succeeded in selling 1,200 special tickets for Kerispatih's performance with Sammy Simorangkir.
"For the price of the ticket itself, at the beginning of April, we released it at Rp. 150,000, then it rose to Rp. 175,000 and finally at Rp. 200,000 and all of them were sold out," he said.
The committee limited the number of visitors attending the concert, because the room capacity could not accommodate tens of thousands of spectators.
"For the majority of our audience, we are more into the millennial gene. So, the average age is around 25's and some are even over 30's and all of them come here on average, they are like looking for Kerispatih and Sammy Simorangkir, curious how the two of them collaborated after not having gone on stage together in a long time. Finally The Ja'an Bali called them to perform together in Bali and it was the first time," said Risfi.
Also read: Hurricane, former Kerispatih, hopes that the rules for holding concerts will be eased
Also read: Kerispatih-Sammy will hold a reunion concert in Malaysia
Preacher: Rolandus Nampu
Editor: Budisantoso Budiman
COPYRIGHT © BETWEEN 2023
source: www.antaranews.com