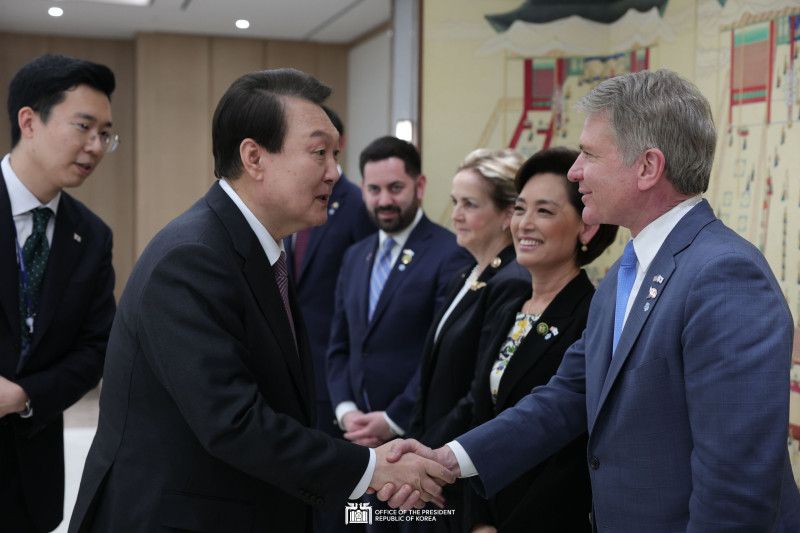 WASHINGTON (Rifyu.com) – South Korean President Yoon Suk Yeol and United States President Joe Biden visited the Korean War Veterans Memorial in Washington on Tuesday (25/4).
The visit to the memorial is part of a series of events commemorating the 70th anniversary of the South Korea-US bilateral relations.
The two presidents each laid a wreath and bowed their heads in honor of the services of the South Korean and US soldiers who were killed in the conflict that occurred in 1950-53. Meanwhile, First Lady Kim Keon Hee and Jill Biden stood closely behind the two presidents.
The four of them then stopped in front of the Wall of Memories, or Wall of Remembrance, ywhich was added to the monument last year. On the wall, written more than 43 thousand names of South Korean and US soldiers who died in the war.
The two presidents' meeting was the first since Yoon arrived in Washington the day before for a six-day US state visit. On Wednesday, the two are scheduled to hold a meeting and state banquet at the White House.
According to South Korean presidential spokesman Lee Do Woon, Biden and his wife took Yoon and Kim on a tour of the White House before visiting the memorial.
In Blue Room, Yoon and Kim signed a guest book and a photo book to mark 70 years of bilateral relations between South Korea and the US. Together with Joe and Jill Biden, the two of them also stood on the balcony to enjoy the views of Washington and its surroundings.
Lee said the two couples conversed on a variety of topics in a friendly atmosphere, ranging from interests in the exchange of people and cultures of the two countries to philosophy of governance.
Biden greeted Yoon saying he was pleased to be able to invite a state guest to a special place and get to know each other better in a happy and comfortable atmosphere, Lee said.
On the other hand, Yoon thanked Biden for the remarks and said he felt a special kind of affinity with the Bidens after learning that they had a lot in common, including the notion that both spouses have dogs and cats.
Yoon also expressed his wish to invite Joe and Jill Biden to the president's residence in Seoul when they visit South Korea at a later date, Lee said.
In addition, Joe and Jill Biden also gave a small table, a flower vase and a sapphire necklace as gifts.
Especially for Yoon who is a baseball fan, Biden also prepared an antique collection consisting of baseball bats, gloves and balls that were once used by a professional baseball player.
Lee said that the gift made Biden remember an incident when he was still a senate.

Also read: The President of South Korea will meet members of the US House of Representatives Foreign Affairs Committee
At that time, Biden hit a ball thrown by a Republican senator so far that his grandchildren thought of the president as a great grandfather even though they had no idea what he was doing as a politician.
Meanwhile, Biden and his wife received a traditional Korean jar and head covering and a silver kettle as gifts from Yoon and Kim.
Source: Yonhap-OANA
Also read: South Korea and the US will negotiate to counter North Korean threats
Also read: The US and South Korea agree to strengthen the deterrence of military attacks
Translator: Tegar Nurfitra
Editor: Yuni Arisandy Sinaga
COPYRIGHT © BETWEEN 2023
source: www.antaranews.com