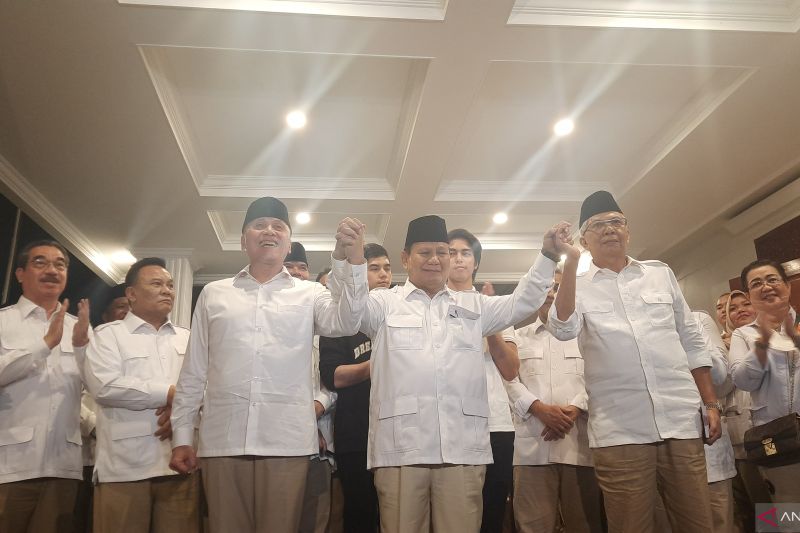 I gave the latest briefing on the development of political dynamics so that the Gerindra Party and all of its staff unite the frequency and perception
Jakarta (Rifyu.com) –
General Chairperson of the Gerindra Party Prabowo Subianto revealed the results of his party's coordination meeting with Inspector General of Police (Purn) Mochamad Iriawan or Iwan Bule at Kertanegara IV, Jakarta, Thursday night.
The Gerindra Party coordination meeting was attended by the advisory council, expert council, advisory board, chairman of the DPD, DPR RI and chairmen of party wings throughout Indonesia.
"Earlier we carried it out and gave a briefing. I gave the latest briefing on the development of political dynamics so that the Gerindra Party and all of its staff unite the frequency and perception," Prabowo said at Kertanegara IV, Jakarta, Thursday evening.
This is done so that all ranks of the Gerindra Party understand and understand the latest developments in political dynamics. Not only that, continued Prabowo, there were several national figures who had just joined his party.
"We officially accepted as a member of the Gerindra Party and we appointed Mr. M Iriawan as Deputy Chairman of the Board of Trustees to fill the existing vacancies, namely there were several vacancies, some died and some changed parties. Maybe you understand who just moved parties. Then Mr. Mawardi us accept as a Member of the Board of Trustees," he added.
According to him, in the coordination meeting all the ranks of the Gerindra Party also stated by acclamation that they support the policies that will be taken by Prabowo.
"I was given authority by the extraordinary congress (KLB), by the national leadership meeting (rapimnas) to adopt certain policies and negotiate in building a political cooperation going forward towards the 2024 elections," he said.
For this reason, on May 1, his party will propose temporary legislative candidates. Prabowo also expressed his gratitude, because many young people have joined Gerindra and the number will continue to grow.
"Today we got the help of millennial young people who are ready to fight with us, Al and El," said Prabowo.
He considered the future of his party to be in the hands of young people. For this reason, Prabowo emphasized that they are ready to pave the way and educate young people who will fight in the future.
"We are struggling to prepare for our replacements by preparing a young cadre in the coming weeks there will be many young people who will join us," he concluded.
Reporter: Narda Margaretha Sinambela
Editor: Indra Gultom
COPYRIGHT © BETWEEN 2023
source: www.antaranews.com