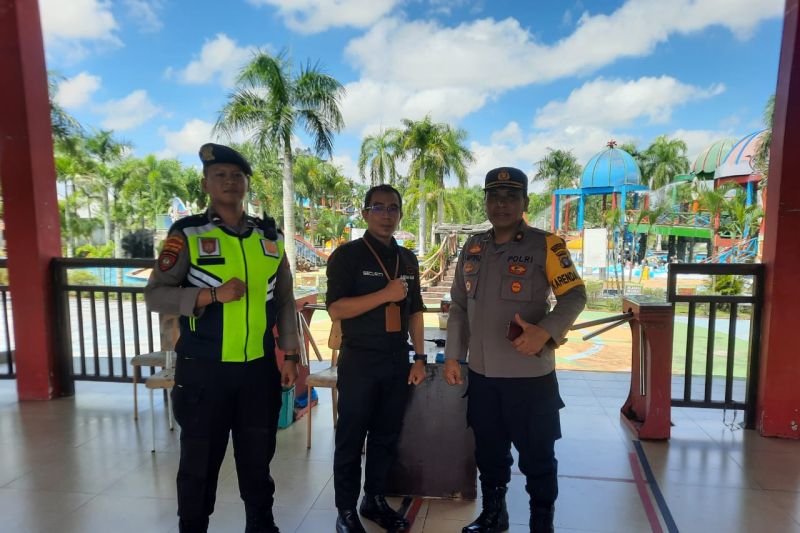 at the location of a number of tourist points that are guarded, there are absolutely no disturbances of the law and order and things that have been feared so far have not happened at all,
Palangka Raya (Rifyu.com) – A number of tourist sites in Palangka Raya until H+3 Hari Raya Idul Fitri continue to be guarded by local police officers due to an increase in visits during the long holiday.
Head of the Palangka Raya Polresta Polresta Sabhara Unit AKP Gatood Sisworo in Palangka Raya, Monday said that during the Eid Al-Fitr 1444 Hijriah holiday, the community visiting a number of tourist points in the local area went smoothly and there were no disturbances to security and public order (kamtibmas).
"From the results of monitoring by our members at the locations of a number of guarded tourist points, there have been absolutely no disturbances of the law and order and things that have been feared so far have not happened at all," he said.
Gatood explained, not only that the members who were distributed in all tourist sites also always appealed to all visitors and tour managers to always pay attention to safety at tourist attractions.
"Especially visitors who use boats to go along the river. Don't let the managers of the river boats not pay attention to the capacity of the contents in the boats along the river, so that the ship has the potential to be dangerous for visitors or ship passengers in it," he said.
The tourist location that is being monitored by the local police is the Air Hitam River, Kereng Bangkirai Pier, which is located in the Sabangau District area. Then the Natural Tourism Park (TWA), Agro Manasa, Matan Andau and Surung Danum which are located in one direction and one sub-district, namely in Bukit Batu Palangka Raya District.
"Members on duty at the local location also frequently carry out patrols to the tourist visitor locations. In addition to maintaining security and order, our personnel also always urge visitors to be careful while enjoying holidays at local tourist sites," he said.
Before concluding his conversation with the media crew, the Police officer with the rank of third rank added that there was absolutely no traffic jam in the traffic flow around a number of tourist sites which are the vacation destinations for residents.
"However, the arrangement of the route to the tourist location is also directed by a joint team that is part of Operation Ketupat Telabang 2023 who is always on standby to keep watch at the service post near the location of the tourist attraction," said Gatood.

Also read: Thousands of residents visit the Matan Andau tour of Palangka Raya
Also read: Palangka Raya tightens supervision of tourist objects during the Eid holidays
Also read: Car rental services in Palangka Raya "flood" customers
Reporter: Adi Wibowo
Editor: Muhammad Yusuf
COPYRIGHT © BETWEEN 2023
source: www.antaranews.com