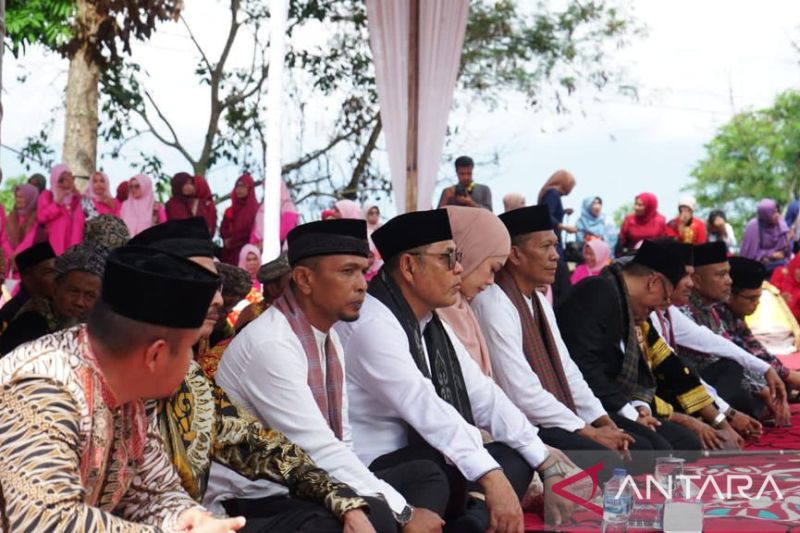 This Basamo return event also aims to exchange ideas to advance development in their respective villages,"
Solok, W Sumatra (Rifyu.com) – Solok Regent Epyardi Asda welcomed the arrival of the migrants who were returning home together on the 1444 Hijriah Eid homecoming in Paninjauan, X Koto Diatas District, Solok Regency, West Sumatra.
The Regent of Solok said Tuesday in Solok that the return baso event is a common thing to do in that area because almost every year nomads return to their hometowns.
"The return baso event also aims to exchange ideas to promote development in each village," he said.
According to him, the nomads play an important role in assisting the development of each village because development in Solok Regency is not enough just to rely on the Solok Regency APBD.
Furthermore, he said these proposals would become a reference for regional governments to provide APBD for development in each nagari.
"Alhamdulillah, this afternoon we can meet here for the purpose of friendly relations and discussion about plans to build an Islamic boarding school in Jorong Kacang Tinggi Nagari Paninjuan, this construction is assisted by Muhammadiyah from the center and coordinated by our immigrants in Jakarta," he said.
He said that for development in Nagari Paninjauan there is an increase every year.
"In this development I adhere to the principle of a people's need-based budget where every penny of the budget will be maximized for development in accordance with what the people need," he said.
He also said that carrying out the mandate as regent of Solok was to make a new breakthrough in various ways so that the vision and mission of "mambangkik Batang Tarandam" to make the best Solok Regency in West Sumatra come true.
Epyardi Asda is grateful that over the past two years Solok District has risen, Solok District has received various awards, starting in the health sector and in the public service sector and finally also receiving the "visionary leadership" award which is an Asian level award.
Meanwhile, General Chairperson of the Solok Paninjauan Family Association (IKPS) Zalzulifa said that the immigrants had built an Islamic boarding school in Jorong Kacang Tinggi Nagari Paninjauan with a construction condition of 60 percent.
"This pesantren focuses on integrated entrepreneurship and creative industries. For this reason, we also need support from the regent, the Nagari Paninjauan government, and our children so that the progress of the development of this pesantren can run smoothly," he said.
Paninjauan Nagari Mayor Tomi Candra also said that there were approximately 300 Paninjauan migrants returning home this year.
"We can report that in the past few days we are in Nagari Paninjauan together with the migrants who have carried out many activities such as artistic activities and religious activities," he said.
During the friendly meeting, he also asked the regent for help to give directions on how to make Nagari Paninjauan move forward.
Also read: Eid tourists are spoiled for 10 culinary specialties from Solok Regency
Also read: The Solok Regency Government is on alert for 160 health workers during Eid
Also read: Police: Bus accident "Pulang Basamo" kills two people
Also read: The Ministry of Transportation facilitates "going home" Paninjauan residents throughout Jabotabek
Reporter: Laila Syafarud
Editor: Andi Jauhary
COPYRIGHT © BETWEEN 2023
source: www.antaranews.com