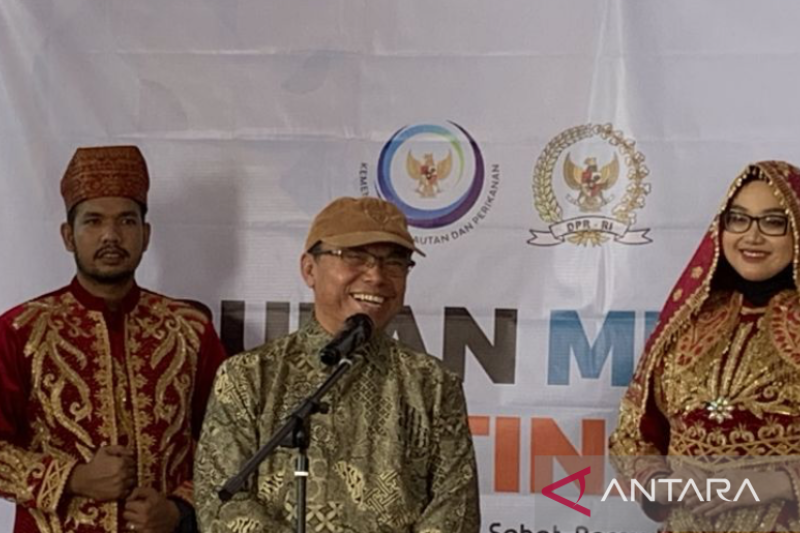 Padang (Rifyu.com) – Member of Commission IV DPR RI Hermanto asked the Committee for the National Week (Penas) for the XVI Year 2023 Mainstay Farmers and Fishermen Group (KTNA) to be held in Padang City, West Sumatra, to make proper preparations for the success of this activity.
"We ask the relevant parties to work swiftly and skillfully to prepare everything for the smooth running of the Penas Tani-Fishermen," he said, in Padang, Thursday.
He asked the committee to coordinate with related parties in order to make optimal preparations so that the implementation of this event was a success.
"West Sumatra is entrusted with holding this national activity. This trust should not be wasted," he said.
Especially regarding technology degrees, he asked the committee to present a variety of low-cost advanced agricultural technologies.
According to him, a variety of agricultural technologies are needed to achieve food sovereignty, even though the majority of farmers are classified as economically weak.
"Therefore the solution to this problem is low-cost technology that can be reached by the purchasing power of farmers," he said.
He said that Penas KTNA XVI would be held in Padang, June 10-15 2023. It is estimated that this activity will be attended by 40,000 participants from all over Indonesia.
Previously, preparations for holding the 2023 XVI Mainstay Farmer and Fishermen Group (KTNA) National Week (Penas) in West Sumatra were constrained by the supply of electricity and the availability of toilets at the event location.
"Problems with the supply of electricity in the field must be immediately coordinated with PLN to find a solution immediately," said W Sumatra Governor Mahyeldi.
According to him, electricity has become one of the fundamental needs in organizing the 2023 KTNA Penas so that problems related to the need for electric power must have a solution immediately.
"If a budget is needed for electricity, we will find a way out," he said.
Apart from electricity, he said, there are still a number of things that until now have not been clarified and who is responsible for them, such as guest parking locations, "mobile toilets", harvest demonstration plots, and several other things.
Also read: Padang provides 3,000 houses for participants in the 2023 Fisherman Farmer Training Center
Also read: The Jayapura Regency Government discusses the readiness of KTNA to take part in the XVI 2023 Fishermen Farmers Forum
For this reason, the governor asked the regional committee to immediately coordinate with the central committee for follow-up.
"The 2023 KTNA Penas implementation is getting closer, namely on June 10-15 2023. For this reason, all obstacles in the field must have a solution as soon as possible," he said.
Meanwhile, the Municipal Government of Padang has prepared 3,000 houses for participants of the XVI National Farmers and Fishermen Week on 10-15 June 2023 which will be centered at Sutan Syahrir Air Force Base.
"The houses are spread across five sub-districts, namely Koto Tangah, West Padang, West Padang, North Padang and Nanggalo sub-districts," said Head of the Padang City Agriculture Office Syahrial Kamat.
The Municipal Government of Padang has allocated a budget of IDR 6 billion for the implementation of the 2023 Fishermen Farmers Training Center to prepare locations, security, art events, exhibitions, guest services, and health services.
He said that the houses would be occupied by 35,459 participants of the XVI Farmers and Fishermen's Training Program consisting of the main participants, companion participants, and observer participants.
According to him, all the activities of Fishermen Farmer Penas XVI 2023 will be centered at the Sutan Sjahrir Tabing Lanud, located about 10 kilometers from the city center with an area of ​​84.20 hectares.
"Sutan Sjahrir Airfield was chosen because of its wide and quite strategic location, including the use of the runway for exhibitions," he said.
This activity took the theme "Strengthening Potential and Bargaining Position of Local Commodities to Realize Sustainable Food Self-Sufficiency Towards Indonesia's World Food Barn in 2045".
Reporter: Mario Sofia Nasution
Editor: Herry Soebanto
COPYRIGHT © BETWEEN 2023
source: www.antaranews.com