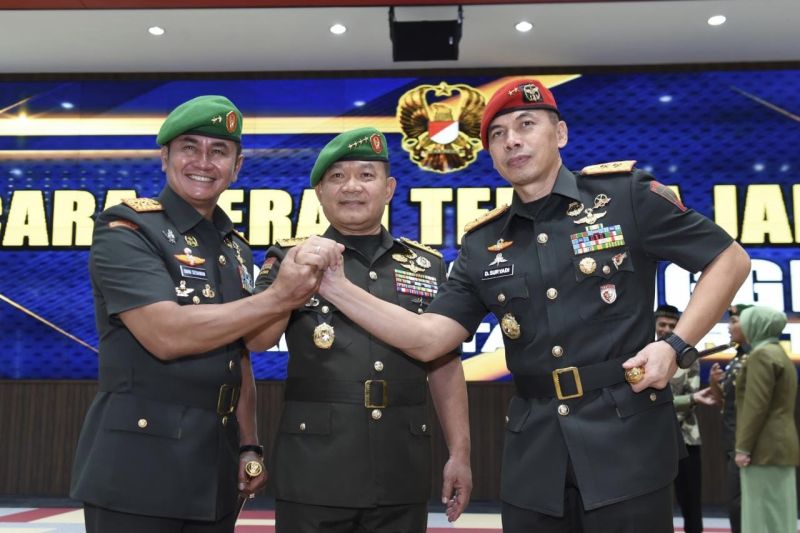 Jakarta (Rifyu.com) – Army Chief of Staff (Kasad) Gen. Dudung Abdurachman reminded four high-ranking Army officers who held strategic positions that their position should not be interpreted as social status, authority or power.
General Dudung, as quoted from his written broadcast in Jakarta, Saturday, gave a message to the high-ranking officers of the Indonesian Army, namely the Assistant for Operations (Asops) Kasad TNI Maj. Gen. Dian Sundiana, the Regional Military Commander XII/Tanjungpura Maj. Gen. TNI Iwan Setiawan, Dan. Kopassus General. Gen. TNI Deddy Suryadi, and Legal Director of the Indonesian Army, Brigadier General TNI Ateng Karsoma, the strategic position they hold is a mandate.
"Officers are leaders who should continue to develop skills and knowledge. With the position currently held, (it) should not only be interpreted as a social status, authority, or power, but holding a mandate that is complemented by followers," said Dudung during the handover of four strategic positions in the Indonesian Army at Headquarters TNI AD, Jakarta, Friday (28/4), as quoted from a written broadcast by the Indonesian Army Information Service.
Therefore, Dudung hopes that these high-ranking officers can properly carry out the mandate given as well as become role models and inspiration for their subordinates and units.
"I hope that high-ranking officers can become role models and inspire their subordinates, as well as benefit and impact progress for themselves, their families and the unit environment," said Dudung.
On the same occasion, the Chief of Staff of the Indonesian Army said that the change of officials is part of organizational development, one of the goals of which is to refresh personnel as a strategy to increase organizational productivity, and to become an arena for career development for officers.
"Changes in positions like this are carried out in order to face the demands and challenges of tasks that continue to evolve along with changes in the strategic environment which are dynamic, fast and often unpredictable," said General Dudung.
After the handover activities at TNI AD Headquarters, Major General Iwan Setiawan and Major General Deddy Suryadi continued their journey to the Kopassus Command Headquarters to take part in the handover ceremony for the new Danjen Kopassus unit.
At the Kopassus Command Headquarters field, Danjen Kopassus Major General TNI Deddy Suryadi officially received the baton of leadership from his predecessor Major General Iwan, which was witnessed by more than 300 Kopassus soldiers representatives from Solo, Serang, Jakarta, Bogor and Bandung.

Herald: Genta Tenri Mawangi
Editor: Laode Masrafi
COPYRIGHT © BETWEEN 2023
source: www.antaranews.com