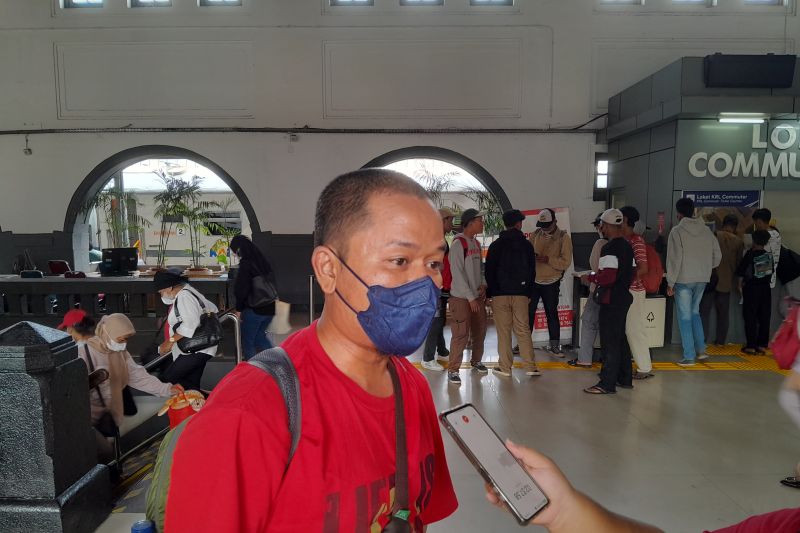 Jakarta (Rifyu.com) – A long-distance train passenger, Sulur (40 years old) said that his journey from back and forth using the train was good and satisfying for this year's Eid.
"Thank God, all the facilities on the way back and forth from the train were good. Yesterday I departed from Gambir station and got good facilities. Yesterday from Kebumen, taking the Sawunggaling train was also good," Sulur said Wednesday to reporters at Pasar Senen station.
The man from Kebumen revealed that he had bought a train ticket at a time close to Eid Al-Fitr but still got a ticket.
"Yesterday I bought it close but thank God I got everything," said Sulur.
Also read: The COVID-19 vaccine is still a requirement for long-distance train travel
Also read: On D+3 Eid, the Pasar Senen station is still packed with travelers
In line with Sulur, Imam (35 years old) who is going home to Garut with his wife and child who is still a toddler said that the service he got from train services during the homecoming and return traffic this year was quite comfortable.
"If I take the train, yes, from Jakarta to Garut and then come back here again, thank God it's smooth.

Right now, there's no input. Quite comfortable," said Imam.
Currently, KAI Daop 1 Jakarta provides low fares for all long-distance train departures (KAJJ) to various destinations. This low rate applies to economy class to executive class with the lowest rates for economy class starting from IDR 150,000, executive 330,000 and business 280,000.
"This program is valid only for departures until May 3, so there are still seats available, but the order rate is quite fast, so don't run out. You can make an order directly or view it on the KAI Access application," he said. Head of Public Relations (Humas) of PT KAI Daop 1 Jakarta Eva Chairunisa to reporters, Wednesday.
At Pasar Senen station there were 16,400 arriving passengers or pemilir (homecomers returning downstream) on Wednesday. This number is starting to increase when compared to yesterday's arrival which reached 16,200 passengers.
Also read: KAI: Return traffic at Pasar Senen-Gambir Station averages 40,000
Also read: Daop 8 Surabaya recorded 37 thousand people using trains during the Eid holidays
Preacher: Fajar Satriyo
Editor: Zita Meirina
COPYRIGHT © BETWEEN 2023
source: www.antaranews.com