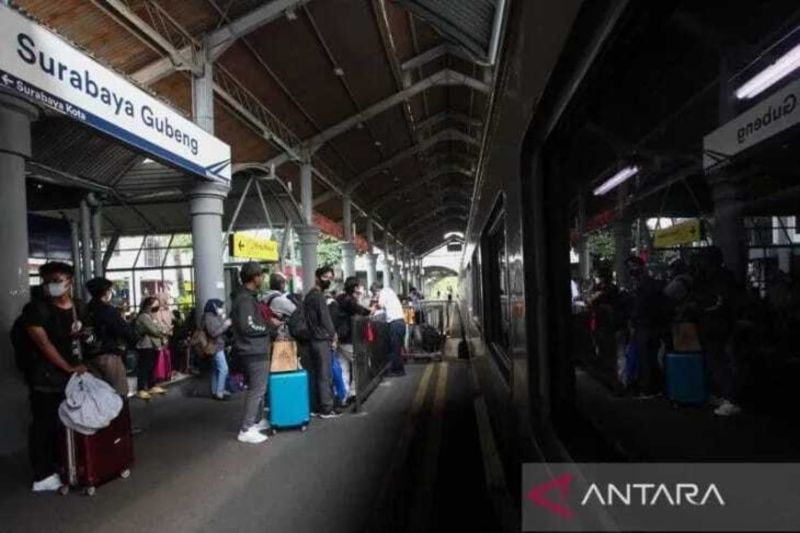 This data shows that KAI is still the people's favorite
Surabaya (Rifyu.com) – PT Kereta Api Indonesia Daop 8 Surabaya recorded more arrivals on D+5 Eid April 28 2023 with a total of 22,006 people compared to the number of departing passengers which was 18,172 people.
"This data shows that KAI is still the people's favourite," said Public Relations Manager of PT KAI Daop 8 Surabaya Luqman Arif in Saurabaya, Friday.
Then, the number of arrivals from H + 1 to H + 5 Eid 2023 or during the return flow period, there were 126,429 arrivals at the station under the auspices of KAI Daop 8 Surabaya.
Luqman said the majority of passenger arrivals were from Yogyakarta, Bandung, Semarang, Jember and Jakarta.
"On average, 25,000 customers arrive at Daop 8 during D+1 to H+5," he said.
Also read: Train passenger occupancy in Daops 8 Surabaya has increased by 38 percent
Also read: Daop 8 Surabaya urges residents to buy train tickets on alternative dates
During the Eid 2023 period, from April 14 to April 23 2023, KAI Daop 8 Surabaya has served a total of 376,059 passengers. Meanwhile, the number of departures was 367,159 passengers or a difference of 8,900 passengers.
Meanwhile, there are three station locations in the KAI Daop 8 Surabaya area which have the highest total number of arrivals, namely Gubeng Station with 42,630 passengers, Pasarturi Station with 35,051 passengers, and Malang Station with 21,326 passengers.
He estimates that the number of passenger arrivals will continue to increase.
"The number of passengers arriving in the Daop 8 Surabaya area will continue to increase," he said.
Seeing the existing conditions, Luqman expressed his gratitude to the people who always use the mode of rail transportation, both when traveling back and forth to the 2023 Eid al-Fitr backflow.
"We thank you for your trust in using the train as the main transportation with various advantages," he said.
Also read: KAI Commuter records an increase in return passengers at Daop Surabaya
Also read: Daop 8 Surabaya recorded 37 thousand people using trains during the Eid holidays
Reporter: Abdul Hakim/Ananto Pradana
Editor: AgusSalim
COPYRIGHT © BETWEEN 2023
source: www.antaranews.com