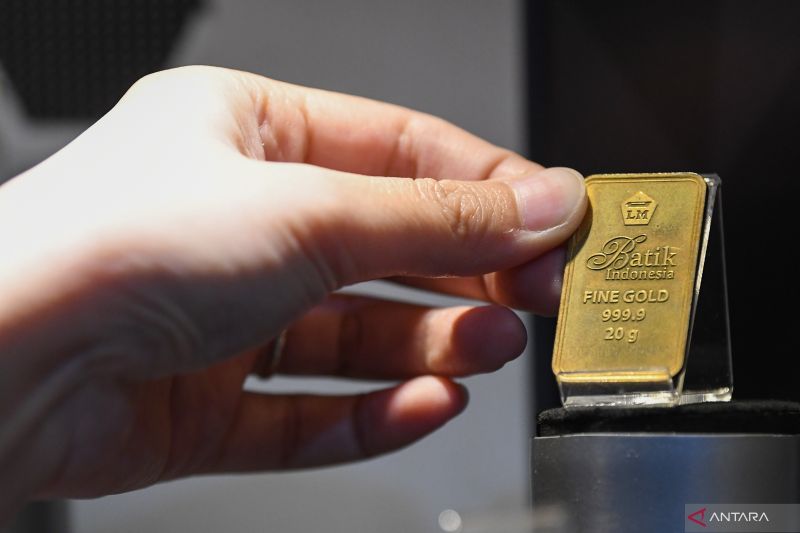 The price of gold was slightly higher at the end of trading Thursday (Friday morning WIB).
Chicago (Rifyu.com) – Gold prices were slightly higher at the end of trading Thursday (Friday morning WIB), rebounding from the previous day's decline although still entrenched below the psychological level of US$2,000, as weaker-than-expected US economic data boosted demand safe haven against the yellow metal.
The most-active gold contract for delivery in June on the Comex Division of the New York Exchange, hoisted $3.00, or 0.15 percent, to close at $1,999.00 an ounce, after touching a session high of $2,013.30 and a low of $2,013.30. 1,982.00 US dollars.
Gold futures slipped US$8.50, or 0.42 percent, to US$1,996.00 on Wednesday (26/4), after being boosted US$4.70, or 0.24 percent, to US$2,004.50 on Tuesday (25/ 4), and strengthened US$9.30 or 0.47 percent to US$1,999.80 on Monday (24/4).
The US Department of Commerce reported Thursday (27/4) that US gross domestic product (GDP) grew at an annualized rate of 1.1 percent in the first quarter of 2023, down from the 2.6 percent growth rate in the final three months of 2022 and also lower than estimates of 2.00 percent by economists.
The lower-than-expected data raised concerns about a potential economic recession. The US dollar strengthened after the release of data which prevented gold from further gains.
Other economic data released Thursday (27/4) were mixed. The US Department of Labor reported that US initial jobless claims totaled 230,000 in the week ended April 22, down 16,000 from the previous week.
The National Association of Realtors (NAR) reported that the US pending home sales index, a leading indicator of home sales by contract signing, fell 5.2 percent to 78.9 in March, its first decline in four months. Economists had expected the index to rise 0.5 percent.
Meanwhile, the Federal Reserve's policy meeting is scheduled for next week. But despite signs of slowing growth, some Fed officials are calling for more rate hikes this year, especially as inflation remains well above the central bank's target range.
Such a scenario bodes ill for gold and other metals, given that it encourages the downside opportunities of holding non-yielding assets.
Another precious metal, silver for delivery in July, was up 13.80 cents, or 0.55 percent, to close at 25.209 dollars per ounce. Platinum for delivery in July slumped $12.80, or 1.16 percent, to settle at $1,093.20 an ounce.

Also read: Gold slipped 0.30 percent, took profits after the US dollar strengthened
Also read: Gold jumped $30.40 as the greenback weakened
Translator: Apep Suhendar
Editor: Budisantoso Budiman
COPYRIGHT © BETWEEN 2023
source: www.antaranews.com