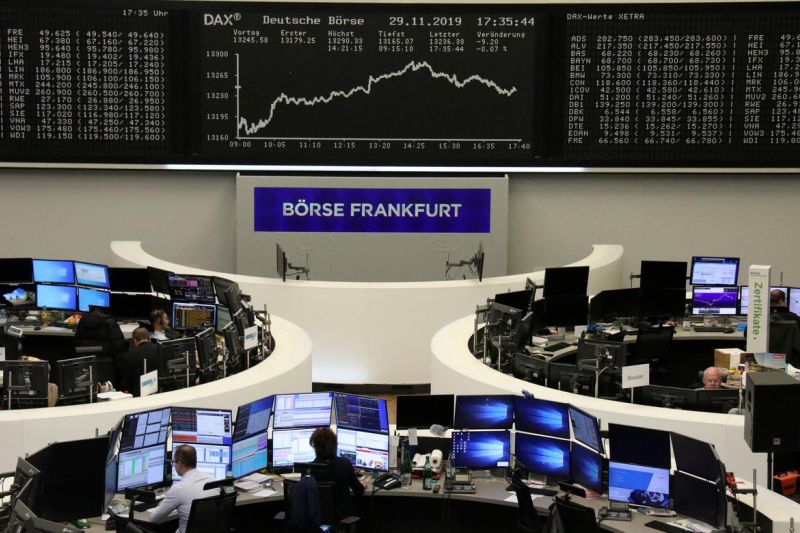 Of the 40 stocks of selected large companies that are components of the DAX 40 index, 11 stocks managed to record profits
Frankfurt (Rifyu.com) – German stocks ended slightly higher on Tuesday local time (25/4/2023), rebounding from losses the previous day, with the benchmark DAX 40 index on the Frankfurt Stock Exchange lifting 0.05 percent, or 8. 18 points to settle at 15,872.13.
The DAX 40 index slumped 0.11 percent or 17.71 points to 15,863.95 points on Monday (24/4/2023), after lifting 0.54 percent or 85.69 points to 15,881.66 points on Friday (21/4) /2023), and was cut by 0.62 percent or 99.23 points to 15,795.97 points on Thursday (20/4/2023).
Of the 40 selected large company stocks that are components of the DAX 40 index, 11 stocks managed to record profits, while 27 stocks suffered losses and two stocks were traded unchanged.
As of September 20 2021, the Frankfurt Stock Exchange has officially expanded the components of the DAX 30 index to 40 shares or to become the DAX 40 index.
Daimler Truck Holding AG, an auto industry company that designs and manufactures German commercial trucks and buses increased 2.90 percent, the biggest gainer (top gainer) of leading stocks or blue chips.
Also read: German stocks turned lower, the DAX 40 index slumped 0.11 percent
Followed by shares of the German multinational corporation which develops enterprise software to manage business operations and customer relations SAP SE rose 2.25 percent; as well as companies trading in shares and other securities Deutsche Borse AG added 1.83 percent.
On the other hand, Deutsche Bank AG, a German multinational financial services company and investment bank recorded the biggest losses (top loser) among the top stocks, its share price slipped 3.83 percent.
Followed by German multinational Sartorius AG's shares of companies that manufacture and market precision electronic equipment and components slumped 2.99 percent; and German global universal bank and financial services company Commerzbank AG lost 2.87 percent.
Also read: German stocks closed in the green zone, the DAX 40 index rose 0.54 percent
Also read: German stocks ended slightly higher, the DAX 40 index was up 0.08 percent
Translator: Apep Suhendar
Editor: AgusSalim
COPYRIGHT © BETWEEN 2023
source: www.antaranews.com