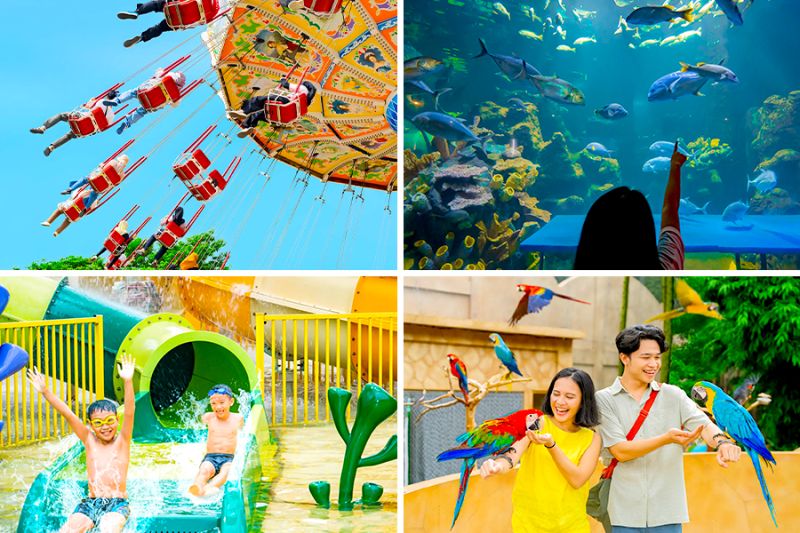 Jakarta (Rifyu.com) – The first red date in May will fall on Monday (1/5) which is International Labor Day, making the Indonesian people feel long weekends post-Idul Fitri holiday.
Not only at the beginning of May, there is also a red date on May 18 2023 which is the day of Ascension of Jesus Christ. That date falls on a Thursday so you may be able to use a ration paid leave on May 19 to enjoy long weekends.
Here are some recommendations for tourist destinations that are suitable for filling your holiday time on a young date, as quoted in the tiket.com press statement on Wednesday.
Ancol, Jakarta
This destination is still the favorite choice of people, especially those living around Jabodetabek. This destination is also perfect for those of you who are not going home but want to spend time with your family.
Entrance tickets, including tickets for various rides, can already be obtained online. In Ancol, you can enjoy various rides such as Fantasy World, Sea World, Jakarta Birdland, Atlantis Water Adventures, to the Ancol Gondola.
You can also spend the night with your family at hotels around Ancol such as the Putri Duyung Ancol and Grand Dafam Ancol hotels.
Lembang Park & ​​Zoo, Bandung – West Java
The biggest zoo in the Bandung area can be your choice to spend time with your family.
At Lembang Park & ​​Zoo, you can also enjoy various attractions and activities such as the Big Aviary, Big Aviary, ride a pony, visit the Rabbit House, feed the elephants, and many more.
If you want to spend the night, you can visit several hotels around the zoo such as Lembang Asri Resort and Moscato Hotel and Cafe.
Also read: Inspiration for tourist destinations this month, from Bali to Tokyo
Solo Safari, Solo – Central Java
For you and your family who are around Solo, this zoo can be an alternative tourist destination with your family. In Solo Safari, there are 20 protected animals including the Komodo dragon.
Interestingly, some of the animals are allowed to roam in open cages. You can also watch animal and area shows petting zoo which allows for closer interaction with the animals.
If you want to enjoy sightseeing around Solo Safari longer, you can choose staying options such as The Sunan Hotel Solo and Hotel NEO Gading Solo which are strategically located.
Jawa Timur Park 1, 2 and 3, Batu City – East Java
Jawa Timur Park aka Jatim Park is a recreation complex consisting of three areas, namely Jatim Park 1, 2 and 3.
Jatim Park 1 comes with the concept of educational tourism along with a variety of exciting rides such as roller coasters And sky swingers. Another option, you can also visit the Wildlife Museum in Jatim Park 2. Or visit Dino Park in Jatim Park 3.
The three locations of Jatim Park are quite close together. You don't need to worry because the facilities have been provided shuttle to move between Jatim Park with tickets that can be obtained online.
Before or after enjoying Jatim Park, you can also choose the option to rest at nearby inns such as the de Lobby Suite Hotel and Three Eight Front One Boutique Batu Malang.
Mikie Funland, Karo – North Sumatra
This destination is outdoor theme park which provides a variety of challenging rides up to spot aesthetic photos. Mikie Funland is suitable for those of you who want to travel with your family.
You can choose 35 interesting rides in an area of ​​about 13.5 hectares. For example, the T-Rex vehicle which can rotate above a height of 8 meters in 360 degrees quickly.
If you need a place to spend the night and rest, you can also stop at nearby hotels such as Mikie Holiday Resort and Grand Mutiara Hotel Berastagi.
Also read: Recommendations for Eid travel with family around Jakarta
Also read: List of affordable tourist destinations, from the city of Khon Kaen to Bacolod
Also read: This is a Mount Bromo tour package recommended by Nahwa Travel
Reporter: Rizka Khaerunnisa
Editor: Maria Rosari Dwi Putri
COPYRIGHT © BETWEEN 2023
source: www.antaranews.com