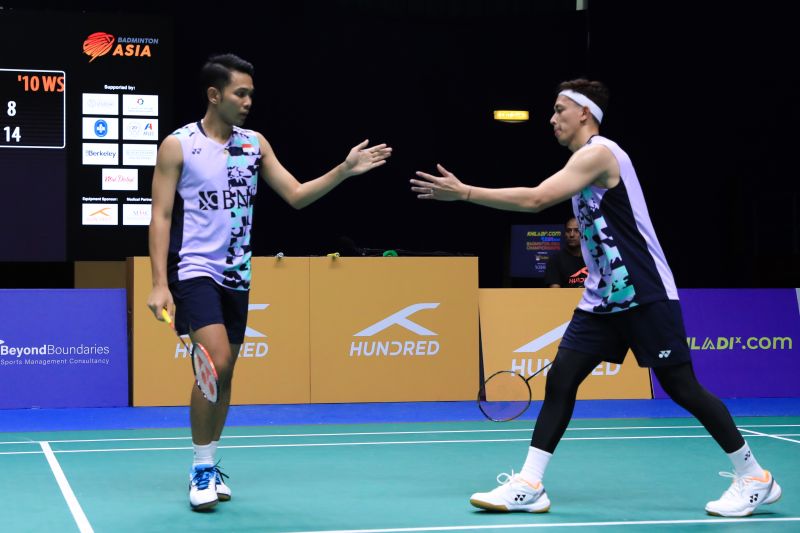 Jakarta (Rifyu.com) – The men's doubles action of Fajar Alfian/Muhammad Rian Ardianto at the 2023 Badminton Asia Championships (BAC) must end in the quarter-finals after losing to Ong Yew Sin/Teo Ee Yi, Friday night Dubai time, United Arab Emirates.
The world number one men's doubles lost in straight games 20-22, 15-21 to the Malaysian duo, which they considered a disappointing defeat.
"Certainly sad and disappointed because we had a chance in this tournament, but it must be admitted that we did not play well," Rian said through written information from PP PBSI in Jakarta, Saturday.
In the first game, Fajar/Rian lost the game's momentum in the middle of the game. Fajar/Rian, who initially led with a score of 15-10, fell behind after Ong/Teo changed their game pattern.
Also read: Fajar/Rian haven't found the best game in the Asian Championships
According to Fajar, Ong/Teo realized that they had no chance to gain points if they continued to play aggressively. Finally, the Malaysian duo changed their strategy by defending to offset Fajar/Rian's aggressiveness.
"The first game after the interval the opponent changed the pattern by playing defense and they were very confident in their defense in this match. Meanwhile, we were in a hurry to get points so we made a lot of mistakes ourselves," Fajar said.
On the other hand, Fajar then realized that his move with Rian to continue to attack Ong/Teo's defense was a mistake. They were too hasty in executing the strokes so that several times their shuttlecock pace was unconvincing.
"Indeed, when we meet opponents like Ong/Teo, we can't play like before. We have to be patient and not rush. That's what we didn't do today," Fajar added.
Also read: Three Indonesian men's doubles representatives have made it to the second round of BAC 2023
Also read: The Daddies overcome the shadow of injury to appear at BAC 2023
The couple nicknamed FajRi also started the second game well. Their advantage was able to lock, but unfortunately it did not last long.
With a 7-2 lead over Ong/Teo, in fact, they were unable to maintain Fajar/Rian's consistency. They then dropped five straight points and the score was tied at 7-7.
It only took a short time for Ong/Teo to get ahead of the Indonesian duo, until the match was finally over after being played in 37 minutes.
"Early in the second game we tried again with our strategy, it was quite successful but again they were able to catch up and that made them more confident," concluded Rian.
Reporter: Roy Rosa Bachtiar
Editor: Teguh Handoko
COPYRIGHT © BETWEEN 2023
source: www.antaranews.com