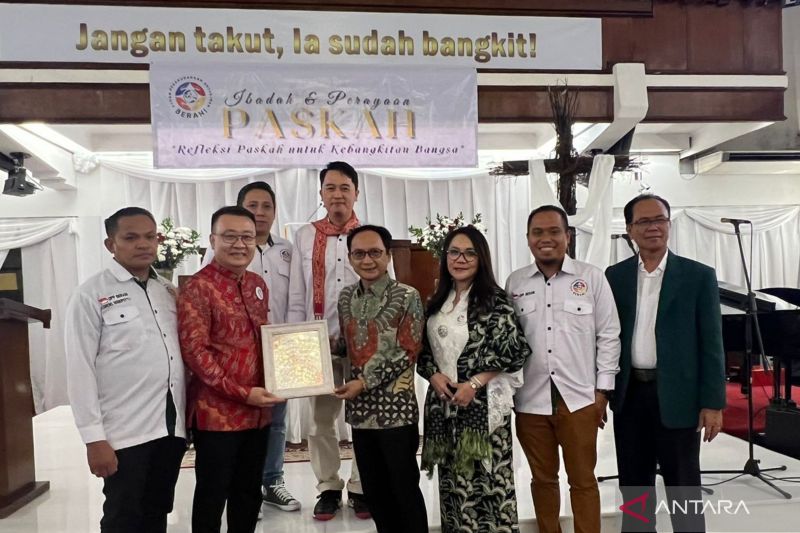 Jakarta (Rifyu.com) –
Secretary General of the DPP Interfaith Fraternity Agency (DPP Berani) Ardy Susanto asked all parties, especially Christians in the midst of the momentum of the 2023 Easter Celebration, to avoid using identity politics in the 2024 elections in order to maintain the integrity of the Unitary State of the Republic of Indonesia.
"Easter is celebrating the resurrection of Jesus Christ so that this is an opportunity to rise up to build brotherhood as fellow children of the nation, stay away from things that make each other hate each other, including avoiding negative exploitation of identity politics for the sake of certain political interests," said Ardy in a written statement received in Jakarta, Sunday.
At this time, according to him, it is time for all elements of the nation to utilize the identity attached to themselves or their group for good purposes, such as building brotherhood.
"We need to use that identity to build brotherhood, respect each other's differences, increase tolerance, and complement each other to build a better Indonesia," said Ardy.
Also read: UIN Palu Chancellor invites multi-party parties to realize elections without SARA
Also read: Setara Institute invites us to stem the narrative of justifying identity politics
He conveyed this during the Easter Celebration held by DPP Berani entitled "Easter Reflections for the Awakening of the Nation" at GPIB Paulus, Menteng, Jakarta, Saturday (29/4).
Apart from Ardy, the activity which was held by the autonomous body of the National Awakening Party (PKB) was attended by PKB Secretary General Hasanuddin Wahid, Chairman of the Jakarta Association of Churches in Indonesia (PGI) Pastor Arlyanus Larosa, and Chairman of the DPP Berani Lorens Manuputty.
On the same occasion, Ardy said that PKB is an inclusive party and is open to all people from various backgrounds, including non-Muslims.
"We feel that PKB is the common home of the nation's children, regardless of their background. So, PKB is not a closed party which is only for certain religions or circles. PKB is an open party, all religions and groups," said Ardy.
Meanwhile, Hasanuddin appreciated the steps taken by the DPP Berani to hold an Easter Celebration by inviting all elements from the interfaith community.
According to him, the Easter Celebration is a pillar form of the rise of PKB as the only party that celebrates the celebration of all religious people.
Hasan, Hasanuddin Wahid's nickname alludes to the current phenomenon of identity politics. According to him, the use of identity politics is indeed likely to emerge in the middle of a political year.
Even so, he said the momentum of the Easter Celebration being held by DPP Berani should encourage all parties present to avoid using identity politics.
"So far, we have been fixated on the point of contention, not the meeting point. Tonight, we are the meeting point," he said.
Reporter: Tri Meilani Ameliya
Editor: Herry Soebanto
COPYRIGHT © BETWEEN 2023
source: www.antaranews.com