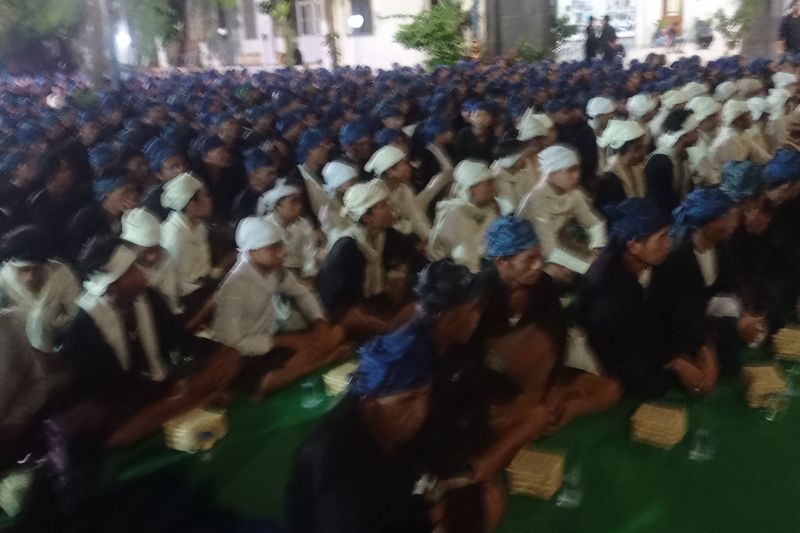 Lebak (Rifyu.com) –
A number of Bedouin figures who celebrated the "Seba" traditional ritual or visited the Regent Iti Octavia Jayabaya with local officials, Friday night (28/4) prayed for a peaceful and harmonious nation.
"If this creates a peaceful and harmonious life, then it is certain that the people will be happy and safe and secure," said the Bedouin figure Dalam Ayah Mursyid in Lebak, Banten, Saturday
The Seba celebration, which is held by the Bedouins every year, has the meaning of establishing friendship, strengthening unity and brotherhood.
In fact, the traditional ritual celebration has been going on for hundreds of years which was carried out by their ancestors.
The Seba celebration is also a form of loyalty and obedience and love for the Government of Lebak Regency and Banten Province and law enforcement officials.
Because of this, the Bedouin community is still maintained and maintained to carry out this traditional celebration.
If the relationship is well established, it will certainly have an impact on the welfare of the Bedouin community.
The Bedouin community in the interior of Lebak Regency is obliged to carry out Seba, because of an ancestor's order to bring agricultural commodities to be handed over to the Regent of Lebak and the Governor of Banten as an expression of gratitude.
"If you don't carry out the Seba celebration, you are afraid of natural disasters," said Mursyid.
Mursyid said he advised the Seba celebration that the 2024 political year could strengthen unity and oneness, so that all the nation's children live united, harmonious, peaceful, safe and secure.
So far, the Bedouin community with a population of around 11,600 people spread across 58 villages has never experienced conflict or division.
In addition, the Bedouin community has not yet found attitudes that harm other people, such as committing crimes or crimes.
We advise that the 2024 political year with the election of the president and deputy as well as regional heads, legislature and the Regional Leadership Council (DPD) will run smoothly, peacefully, safely and securely," he explained.
Mursyid's father also asked the political elite to set a good example to the community, so as to create a conducive climate.
Those political elites, if they lose a political battle, they still have to have an old-fashioned, statesmanlike and mature spirit to love unity and oneness more.
Likewise, another Bedouin figure, Jaro 12 Dependents Saidi Yunior, said that in the 2024 political year, of course the community must be more mature and able to strengthen national unity and unity so that divisions and conflicts do not occur between supporters and sympathizers.
This is because the people of Indonesia, since their ancestors and kingdoms, have loved peace, harmony and mutual tolerance with the diversity of religious, ethnic, cultural, social and linguistic differences.
However, in the midst of this diversity, it becomes a strength to strengthen unity within the framework of the Unitary State of the Republic of Indonesia.
"As brothers and sisters, of course we must live side by side with tolerance so that the 2024 democratic party is truly full of harmony and peace," he explained.
Meanwhile, a traditional leader who is also the Head of Kanekes Village, Lebak Regency, Jaro Saija, said that the celebration of the Seba ritual is for the Bedouin community to strengthen unity and brotherhood.
Currently, he said, the number of Seba participants was attended by 1,224 people consisting of Inner Bedouins who typically dress in white, white pants, and lomar or head coverings which are also white.
The Inner Badui community, which are scattered in the villages of Cibeo, Cikawartana and Cikeusik, are still strong in supporting local customs.
They go anywhere on foot and are prohibited from using vehicles.
Meanwhile, the Outer Baduy community, with its distinctive feature of black clothing, black pants, and blue lomar, are receiving modernization using digital advances and the internet via smart phones so they can communicate via social media.
They are Outer Bedouins wherever they go they are allowed to use transportation, cars and motorbikes.
"We hope that in the future this nation will become better by strengthening unity, so that there will be no conflict or division, even people's lives are safe, peaceful and peaceful," said Jaro Saija.
Preacher: Mansyur Suryana
Editor: Triono Subagyo
COPYRIGHT © BETWEEN 2023
source: www.antaranews.com